Grandma's Moving Tips You'll Be Glad You Borrowed
June 18, 2020
There are so many treasures that are passed down to us from grandparents—family recipes, precious keepsakes, and priceless memories. But if you haven't turned to your grandparents for packing and moving advice, you may be missing out! Check out these tried and true tips we've collected from those who have been there and done that.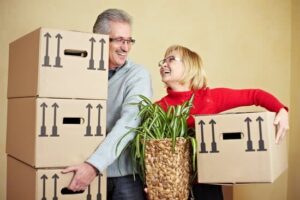 Packing Clothes 
When it comes time to pack clothing, take it from grandma and simply leave everything on its hanger. While clothing is still hanging, slip a garbage bag around the bottom and slide it all the way up, tieing at the top. All the clothes will have a nice protective shield as they travel. Have clothes in dresser drawers? Leave them right where they are, too, and move the whole drawer. For any clothes that get packed in your overnight/open-first bag, be sure to use the rolling (instead of folding) method to save space and prevent wrinkles.
Be Prepared
If my grandma taught me anything, it's the old saying, "It's better to have it and not need than to need and not have it." Apply that adage to moving and stash the necessities in your open-first bag.  You'll want safety pins, a needle and thread, a first aid kit, headache meds, and ziploc baggies, just to name a few.
Electronic, not Paperback
Grandma would surely approve of this tip. If you've got a long travel day, save yourself room in your purse by opting for e-books all on one device. Check out the Libby app, and you'll have your local library at your fingertips on moving day and beyond.
Forecast for New Locale
Of course, you'll want to consult the forecast for moving day as it draws near, but if you're making a long distance move, you shouldn't stop there. Consult your destination's forecast, as well. You'd be disappointed arriving in shorts and a t-shirt when the locals are still bundled up. 
Unpack Hack 
A hanging cosmetics bag is one of the best moving hacks you can borrow from grandma. You won't have to sort through dozens of boxes and you can prepack it to have exactly what you think you'd need upon arrival.
Thanks, Grandma!
Some tips are just too good to retire, and when you're ready to move, these time-tested methods will be invaluable. And if you're looking to enlist the help of movers with the experience and professionalism that would impress even grandma, check Beltmann Moving and Storage out today for a free moving quote. 
---