Our Giving Back Programs
Beltmann Moving and Storage is proud of our various Giving Back Programs including Habitat for Humanity, Gary Sinise Foundation, and Move for Hunger.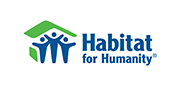 Habitat for Humanity
As a NorthAmerican agent, Beltmann Moving and Storage is a proud supporter of the 2014 Habitat for Humanity Homebuilder's Blitz and Habitat for Humanity ReStore resale outlets.
Habitat for Humanity Homebuilder's Blitz pairs local builders with local Habitat affiliates to build a home in 5 days. Since the first event in 2002, Homebuilder's Blitz has built more than 1,000 homes across the country.
Habitat ReStores resale outlets sell donated gently used household furniture and appliances, and use the proceeds to support the Habitat for Humanity mission. Our relationship with Habitat for Humanity provides Beltmann's customers with the opportunity to support this worthwhile organization and the good works they do through donations to Habitat ReStores.
Go North Habitat for Humanity ReStore Donation Program
At Beltmann Moving and Storage, community is a big part of who we are. That's why as an agent of northAmerican Van Lines, Beltmann Moving and Storage is proud to have joined forces with Habitat for Humanity ReStores in a unique program that helps Habitat ReStore's keep their resale outlets stocked with merchandise so that Habitat for Humanity can continue their much-needed mission to help those less fortunate realize home ownership. The Go North Habitat for Humanity ReStore Donation program is the first national donation program between Habitat ReStore resale outlets and the moving services industry. Beltmann is proud to be a supporter of Habitat for Humanity ReStore.
Now, when you move with Beltmann, you have the opportunity to donate unwanted, gently used items to your local Habitat ReStore. Those items are then either used in newly built Habitat home, or sold through the ReStore, with proceeds going to help fund builds in our local community, as well as in communities throughout the U.S. and Canada.
Why donate through the Go North Habitat for Humanity ReStore Donation program? Here's a few reasons:
Lower move cost. By donating unwanted items, you reduce the weight of your shipment, thus reducing your move cost.
Taxable deduction. For your donation, Habitat International will send you a donation confirmation email you can use to lower your annual tax obligation.
Help your community. Homeowners make good neighbors. Feel good knowing your donation is going to work helping Habitat build homes for worthy families in your community and across the country.
Donating to Habitat Through Beltmann Couldn't Be Easier
Notify your moving consultant of your desire to donate at your in-home estimate. Your consultant will provide you with the Go North Habitat Donation Inventory form, which you will need to complete before your move date, as well as donation stickers to place on the items being donated.
Complete the Go North Habitat Donation inventory form. You can complete the form electronically or print it out and complete manually.
Provide us with the completed inventory form. You can complete the form any time before your move and either email it to your coordinator, or provide a printout of the completed form to your driver on move day. Be sure to keep a copy for yourself to use for your taxes!
Betlmann will get your donation to the local Habitat ReStore.
Within 90 days, you will receive a charitable contribution confirmation email from Habitat International that you can use on your taxes.
Help Beltmann, northAmerican and Habitat for Humanity help communities through their home building and home ownership programs and help yourself with a lower move cost and tax deduction. For more information on the Go North Habitat ReStore Donation Program, email us at info@beltmann.com. Go with a mover that supports your local community. Go North.
Gary Sinise Foundation
The Gary Sinise Foundation honors Our Heros—defenders, veterans, first responders and their families by creating and supporting unique programs designed to entertain, educate, inspire, strengthen, and build communities. As many of are aware, the experiences of war leave an indelible impact on the lives of our servicemen and women. As they return to civilian life, the physical, emotional and psychological challenges are often difficult to handle. The foundation works to ensure the sacrifices made by these men and women are praised and never forgotten.
Gary Sinise, the actor best known for his role as Lt. Dan in Forest Gump, was greatly moved by the tragic event of September 11, 2001. He devoted much time to supporting the men and women who were deployed to service the attacks. After this experience, he vowed to become much more active for our defenders and do whatever he could to honor these Heros.
In 2012, the Gary Sinise Foundation began building specially adapted smart homes for America's severely wounded veterans through its partner program. Each home features automated amenities to ease the daily challenges these heros face. In 2013, the Foundation expanded these efforts by establishing its R.I.S.E. (Restoring Independence Supporting Empowerment) program.
As a NorthAmerican agent, Beltmann Moving and Storage has helped support the Gary Sinise Foundation by providing moving services for veteran recipients of the smart homes. Our involvement was even featured on the August 18, 2016 episode of Designing Spaces—a special called Military Makeover.
To learn more about the Gary Sinise Foundation and the great work that is achieved through the organization, visit www.garysinisefoundation.org.
Move for Hunger
Seventeen million children in North American go to bed hungry—not because there isn't enough food or money but rather we allow it to exist. Move for Hunger works with relocation companies across the nation to collect non-perishable food items and deliver it to food banks all across North America.
Think about the amount of stuff that is thrown away when a family relocates—including non-perishable food. The Move for Hunger program is a year-round service initiative that is employed by relocation companies, such as Beltmann Moving and Storage. We inform those relocating to set aside unopened, non-perishable food items and we take it from there. Our crew will pack up your food on move day and deliver it to the local food pantry. From there, donations will be sorted by the local food bank and delivered to local families in need.
As a North American Agent, Beltmann Moving and Storage has supported Move for Hunger and in 2012 received the Move For Hunger- North American Van Line Mover of the Year.
When you move with Beltmann, you have the opportunity to join us in our fight to end hunger. Collect all your unwanted, non-perishable food items in a specific location, make your Beltmann moving representative aware of your donation, and on moving day, our movers will box up your food donation and see that it is delivered to the local food pantry. Together, we can fight hunger!
To learn more about Move for Hunger, visit moveforhunger.org.