Selling Your Home Near the Holidays
November 25, 2019
No matter the time of year, staging is about showing off your home's best qualities, while simultaneously allowing prospective buyers to visualize their own belongings and life within the walls of your home. During the holidays though, this can feel a little trickier. The urge to pull out your children's handmade decor and deck your home with your personal touches may be strong, but doing so could hinder your sale. As the holiday season approaches, here are some staging tips to follow to help your home sell fast, without putting a damper on your festive spirit.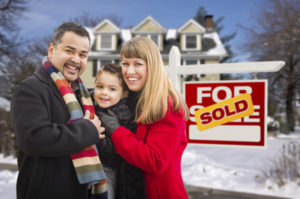 Curb appeal. First things first: as they drive up to your home, what will buyers think? If leaves, branches, or snow is piled up, the first impression will be dampened. Rake, shovel, and sweep the front porch. In addition, this is the year to go simplistic with decor (and stash away the giant inflatable turkey and snowman). A doormat in seasonal colors, but not overtly holiday, and a classic wreath will set the stage for your buyers to be excited as they walk in the front door.

Seasonal scents. After curb appeal and front porch detail, the scents which greet the buyer at the door will create some of the strongest first impressions of your home. Because we become desensitized to smells, have a friend walk in the front door and give you their opinion. You likely won't have to wait for their response; the look on their face will tell you whether you created a gentle inviting scent which wofts toward them, beckoning them inside, or an overpowering smell that makes them want to turn tail and not step foot inside your home again. To find that delicate balance, consider:
Bake before the showing. Some gingerbread cookies or a pumpkin pie will create a soft scent to linger for hours.

Diffuse the perfect blend of oils. Ginger, cinnamon, and clove meld together to make the perfect 

Bring the Outdoors In. A sheared, potted rosemary plant is a great way to harness a naturally light and piney scent straight from Mother Nature. 
Simple interior.  Don't completely ignore the time of year. Give nods in classy, clean ways. Think a glass vase filled with one color ornaments as a centerpiece and a single, crisp tree. Remember that this time of year means different things to different people, so appeal to as many buyers as possible by limiting or foregoing items that are super personalized.
You may feel a tinge of sadness not unpacking all your boxes of holiday treasures, but remember the goal is to get the house sold fast so you can get into the new one and start making memories! Through our personalized service and dedicated staff, Beltmann Relocation Group can help bridge the old to the new by helping you get settled into your new home fast. Give us a call for your free quote!
---