Patio Decorating on a Budget
July 2, 2021
Summer's in the air, and the joy of outdoor relaxing and entertaining is kicking into full gear, especially in a (nearl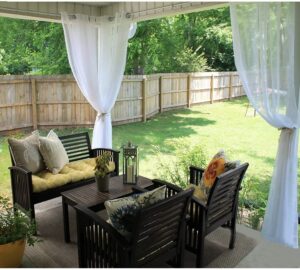 y) post-COVID world. Wondering about some great ways to take advantage of your backyard space?
HGTV has compiled a list of 40 beautiful, budget-friendly ways to decorate your patio or porch. Here are some of our top picks:
Ground cover. There is an abundance of indoor-outdoor area rugs for sale at affordable prices, or you can even make your own by painting a basic rug! Keep it simple and neutral so you can change out the rest of your décor from spring through the fall.
Curtains call. Breezy privacy adds to the exclusive feel of your private outdoor oasis. For a grander upgrade, go for some amazing-looking hardware to seal the deal.
Bring out the old. Repurpose, recycle, or re-use vintage or antique artwork and trade signs for a casual, laid-back vibe. (And it doesn't hurt that larger frames might also increase your privacy!)
Shatterproof your plates. Add some cheap melamine dishes — however fun or funky — to bring out the season's best designs and all the summer vacation feels.
Plants are your friend. Using a variety of plants that require little water and little maintenance can help you incorporate another cost-effective element into your patio. Stick with succulents, grasses, and evergreen vines for a gorgeous contrast in color and texture.
Hack your front porch. This one is especially great for anyone with a slight competitive streak. Try hacking your front porch greenery with some faux flowers for a completely Pinterest-worthy look!
Stooling away. Grab some garden stools for multi-purpose seating, a plant stand, or a side table! Bonus if it's whimsical and fun.
Light it up. Create some beautiful DIY luminaries by poking decorative holes into painted tin cans. Just add a tea light or a votive candle, and enjoy!
For more inspiration, check out HGTV's original post.
---