How to Make Your Bathroom Feel Like a Spa
August 12, 2022
If you've ever been to a spa or luxurious retreat, it's no secret that the blissful way you feel after that experience is, in a word, pure aaaaaaaahhh. So … what if it's possible to have that feeling every day, even from home? (And as an added bonus, when company visits, your guests can feel that way, too!)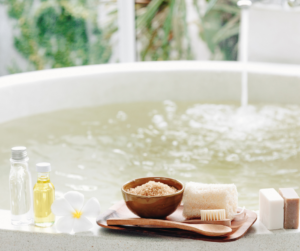 We've compiled a few of our favorite ideas for making your home bathroom feel like an extravagant spa. Just kick back, and enjoy.
Scents matter.
Adding candles or diffusers can help put you into a positive mood and even evoke sweet memories. (For more on the subtle power of scents to help you sell your home, catch our previous post.) Citrus fruits — like lemons and oranges — have a good "clean" scent to them, or you can opt for a more calming fragrance like lavender. Not to mention, candlelight brings out the soothing, relaxation spa vibes.
Add a bathtub tray.
You can start with a simple wooden acacia tray across the tub, or go all out with an expandable bathtub tray that even includes a cup holder or mini shower caddy. The "stay and linger" force is stronger if you have what you need to fully submerge your body and mind in opulence.
Add natural materials.
Bring in a bit of nature and organics to your spa-like experience. A few ideas to try: sea sponges and natural loofahs, sea shells, and river stones.
Try fresh eucalyptus.
You can buy fresh eucalyptus at a local grocery or craft store. Simply bunch it into a few leaves at a time, then let it run under the water or your showerhead for a fresh "I've been to the spa" feeling every time you hop into the shower.
Organize and de-clutter the little stuff.
Prioritizing the de-cluttering goes without saying for those who love to organize. However, for those who simply tolerate purging and cleaning out drawers, having a cleaner bathroom will feel more welcoming to both guests and family members alike.
Roll your towels.
Help your entire family feel special with fresh, fluffy towels that are rolled and expertly placed in a basket or towel rack. Plus, thick, oversized bath sheets are typically quite affordable — and available in a wide variety of colors.
Add some plants.
Try displaying plants from the ceiling in plant hangers or on wall shelves to keep your counters accessible and floors clean. This also helps the plants to stay in full view of beneficial light.
If you're looking to make a move soon, Beltmann Moving and Storage is here to help you plan a stress-free moving experience. Contact us today to start the conversation or get a free quote.
---