How to Find the Best Bed Sheets
May 16, 2022
When you're ready to put your head on the pillow at the end of the night, which material actually lies underneath your head can make all the difference. And contrary to popular belief, a higher thread count doesn't automatically equate to higher quality sheets.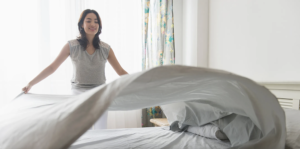 Worth noting … what makes the best sheets for you might not necessarily be the best for someone else, so feel free to take these tips and incorporate them into your personal needs and style.
The Most Durable: Microfiber
As a polyester and nylon blend, this makes them both durable and affordable. If it says "brushed microfiber" that means both sides of the sheets are brushed for softness. Unfortunately, durability and breathability aren't always the best combination, so if you need breathable sheets, cotton might be your new friend.
The Best for Sensitive Skin: Cotton
Combed Cotton, Jersey Knit, Egyptian Cotton … what's the difference? Combed cotton has been tweaked to remove small, excess fibers. Jersey knit sheets will make you feel like you're in an old comfy t-shirt (while also very affordable). And Egyptian cotton means hand-picked cotton, resulting in stronger, softer cotton.
The Best for Hot Sleepers: Percale Bed Sheets
Percale sheets are a type of weave, often with cotton, and tend to feel more like a dress shirt. They work well for hot sleepers or anyone who wants to stay cool on a warmer night.
The Best for Winter: Flannel
The complete opposite of hot sleep in a warm room is finding a way to stay warm on a cold, winter night! Flannel sheets are your friend, as they incorporate thicker fabric and are usually brushed for extra softness.
The Best Eco-Friendly: Bamboo
While they're a relative newcomer to the sheet scene, bamboo sheets are becoming wildly popular. Bamboo fiber is moisture-wicking, which helps keep the skin dry and fresh. It's also well-suited for people with allergies, eczema, or sensitive skin, as bamboo tends to not easily absorb allergens.
The Best for Luxury Comfort: Sateen
Sateen sheets are actually cotton, but made to feel silky like satin (and less expensive!). Another benefit is that sateen sheets are gentle for hair and skin, and especially helpful for curly, dry, or color-treated hair.
By the way, you can find all our tips for choosing the best mattress to go under those fabulous new sheets, here.
Contact Beltmann Moving and Storage
Whenever you need local movers near you for a new house, long-distance movers for that interstate move, or help with a full-service relocation, Beltmann is here to meet your moving needs and budget. Contact us today to learn more or get a free quote.
---