Sleep On It: Tips for Finding the Best Mattress
October 9, 2020
"There is a time for many words, and there is also a time for sleep."
― Homer, The Odyssey
Whether you're moving to a different size home, joining households with a new mate, looking for a sleep upgrade, or shifting gears for a child, the actual space where we sleep — our mattress — is a decision worth considering whenever moving to a new place.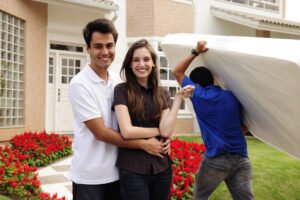 According to Michelle Ullman at TheSpruce.com, here are 7 tips to finding the perfect mattress:
Know Your Size.
King, California King, Queen, Full-size, or Twin? Consider your lifestyle and the dimensions of your space when you decide which size mattress best suits your needs. (Keep in mind, changing the mattress size might also involve a new frame or headboard, plus new bedding if you don't already have any that would fit.)
Try Before You Buy.
"Yes, it's awkward, but yes, you really do have to lie down and give the mattress a try before you plunk down your credit card," writes Ms. Ullman. Even if you're making an online purchase, it's important to get the feel of a similar or better yet, identical, model in an actual brick-and-mortar store. New mattresses aren't cheap, but ideally this isn't a purchase you'll make again soon. (Of course in the COVID-19 era, avoid shopping in person if you're sick, and follow all local ordinances in the store.)
Check the Return Policy.
Is it 30 days? Is it just one week? Is there a re-stocking fee? Do your diligence, and learn about the return policy and any potential trial periods in case you aren't happy with the initial purchase. Especially if you're shopping online.
Is Extra Soft or Extra Firm Best for You?
Different manufacturers have similar terms that can mean different levels of firmness on a mattress. (Which is another reason why it's important to try it in person, before you buy.) Decide what's most comfortable for you (and your sleeping partner).
Pillow Top: Take it Or Leave it.
Despite their popularity, the pillow top portion on a mattress might not last as long as the mattress itself, so another alternative is a thick mattress topper.
Know Your Options.
There are an abundance of different types of mattresses, so it's a good idea to become familiar with the pros and cons for each:
Innerspring are most common, but not always the most durable;
Memory foam helps with cushioning sore joints, but can also be hot;
Latex foam is similar to memory foam but not as hot;
Hybrid mattresses combine innerspring and memory foam — giving you the best (or possibly the worst, depending on your preference) of both worlds.
Budget Generously.
It's no secret that getting a good night's rest increases your overall health and elevates your mood. So while it's never wise to spend outside of your budget, consider cutting costs in other areas to save for a well-constructed mattress that best suits your needs for comfort and maintaining good sleep habits.
---