Homeowner Resolutions for 2020 Round 4: Get Organized
January 29, 2020
Ah, organization. If you're like me, this has been on nearly every resolution list you've ever made. Whether you've just moved in or are looking to downsize what you have in the home you've been in for years, 2020 is your year to finally get organized. Try some of these manageable tips to make the process less daunting and get you on your to accomplishing your goal.
Start Small
Choose a small space to start your organization adventure. This might mean your pantry, or a linen closet, or even just a junk drawer. Put your mission on the calendar and block off specific time to get the project done, even if it's just 10 minutes on a few consecutive nights. The success you feel from organizing one small space will spur you on to continue with bigger projects. 
Divide and Conquer
It's incredible what dividing up a space into separate compartments can do to help you feel organized, and this is another project that will take no time at all. But this doesn't mean you have to purchase pre-made organizers (though you can if that's more your style with dividers like these). Using shoe boxes, for example, is a great way to make several individual spaces within one drawer. A place for everything and everything in its place!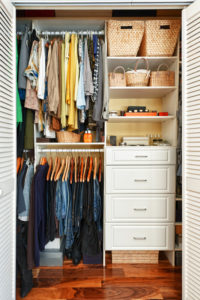 A Family Affair
The best laid plans will do you no good if you don't have the help and support of the other members of your household. Get their input before (if your family is like mine, you'll get a few passive shrugs at best) shuffling the contents of a space, and then walk them through your system after. For example, the "first in, first out" method for our pantry was something my husband wasn't aware of but was completely on board with once we heard of and implemented it. 
No system will work in the long run if it's not tailored to work for your specific needs, so before committing to someone else's idea of organization (Marie Kondo might not be for you!), jot down the way you need your spaces to work for you. 
And if you're looking for a company to help keep you and your belongings organized for an upcoming move, be sure to call the professionals at Beltmann. Our experts will help you keep your resolution of staying organized and will ensure you get your life in your new home started off on the right foot.
---