Homeowner Resolutions for 2020 Round 2: Get Involved
January 15, 2020
Becoming more involved in the community is a common New Year's resolution, and especially if you've recently moved, donating your time and effort to make your neighborhood a better place is a great goal for the new year. You'll automatically feel more connected to the area and its members by finding ways you can help out and make new connections. 
There are plenty of tried and true ways you probably are already familiar with, like donating your time at a local food pantry for example, but there are tons of unique ways you might not have thought of yet! 
Make a Match
If you're looking to volunteer, start by matching your volunteership with your interests. You and your family have skills and hobbies that are unique to you, so share your talents with your community!  If you love the outdoors, plan a trail hike with your family and clean up as you go. If you're an animal person, check out ways you can help the local humane society.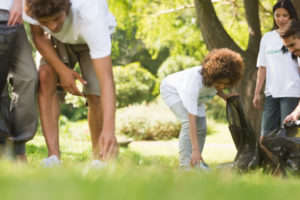 Think Local
Sure, your new town probably has lots of chain retailers, but that sense of community your looking for is much more likely to be found at local, mom and pop establishments. Hunt down and become a patron of restaurants, boutiques, and shops that are unique to your community. Visit the library and check out the bulletin board postings about upcoming events; there will inevitably be events that would fly under your radar otherwise. Likewise, local recreation or fitness centers offer than chance to meet other individuals with similar interests and do something you love. You can also find neighborhood specific events in Facebook groups, so make your social media work for you! 
Sporting Events and More
A quick way to become an ingrained part of a community is to become a fan of local sports. If you have children, get them involved and you'll quickly meet other parents as you cheer from the bleachers. If not, it's still fun to become a fan of the high school band, a nearby college's football team, or the community choir. Developing some hometown pride is an old-fashioned, surefire way to create a sense of belonging.
Resolving to become more involved is a great way to put down roots in a community. And if your move is upcoming, the experts at Beltmann would love to help get your belongings safely to your new destination! Get your free quote today to get started.
---