Home Decorating: 5 Simple Kitchen Tips
February 5, 2021
Whether you're staging a home to wow buyers for an upcoming move or simply looking for a little update, there's no doubt that the way the kitchen looks can influence the way the rest of home feels. And decorating the kitchen with these 5 simple tips can bring a welcome vibe into the heart of your home.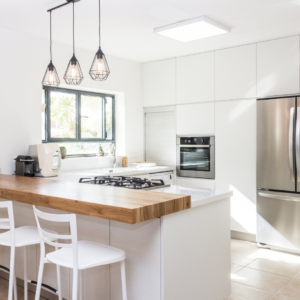 Make the "pretty things" on your counter functional, too.
This could be a cutting board, a candle, a knife block, etc. — just remember that if it takes up space on the counter, it needs to also serve a purpose. One way to display frequently used items is with a wooden tray or a stylish basket.
Get ruthless in your cleaning.
At least a few times a year, get serious about your kitchen cleaning and de-cluttering. From counters to cupboards to the backs of the drawers — be sure you clean every surface to make it look good and smell great. There are an abundance of DIY tips available online, or consider hiring a professional if you have the budget but lack the time or interest.
Freshen up the paint.
There's a difference between "vintage and well-loved" and "tired and shabby" — so ask an objective friend for their opinion. A fresh coat of paint or varnish in a trendy hue (Sherwin Williams, Benjamin Moore and Minwax all release their annual "Color of the Year" lists) can also shift the look and feel of the kitchen, if you're ready for a change.
Take stock in your storage.
This involves some classic de-cluttering, as not every home has the same amount of storage. So you'll want to make the most of whatever storage space you have. Clear out any unnecessary items, from expired spices to infrequently used dishware to that extra stash of cleaning supplies hidden under the kitchen sink. You might also consider adding a new system to a pantry or under-counter storage space.
Lighten up.
If you've got windows in the kitchen, bring them to life by removing anything bulky (like pots or heavy drapes) that might block the natural lighting. And while natural light can be a top-selling point, don't underestimate the power of adding artificial light in key places. It's also easy to do on a budget — try some battery-operated lights to add some beautiful illumination without spending a lot.
If you're contemplating a move, Beltmann offers extensive relocation and storage services — whether it's a local move, across the country, or even overseas. Call or visit our website: We'd be happy to chat with you to offer a free estimate for a customized moving plan today.
---