Forecasting 2020 Design Trends
December 5, 2019
If you love being the first one in the know, then it's time to turn your eye to interior design inspiration sure to be a hit in the coming year.
Texture
Expect to see even more from luxurious fabrics like leather, suede, and velvet, but also be ready for the incorporation of bouclé fabric, a heavyweight, looping of yarn that creates a curled, textured appearance.
Colors
Grey on grey was all the rage for a solid decade, but bold hues of burnt orange, fuschia, and kelly green are popping up in the trendiest of interiors now. For those who are perhaps not quite as bold with their interior design choices, you'll still see plenty of warmer tones. Earth tones will have their moment in this new year in place of the cool ones we have seen for so long. And on that note, entire rooms will be bathed in these colors, so say goodbye to the accent wall, which designers say will quickly make a home look dated.
Maximalism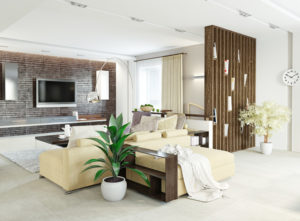 For several years now the minimalist design has reigned supreme, but be on the lookout for bolder design choices: big clusters of wall decor, bold geometric patterns, and varying fabrics that play off of one another. The layered look will rule. It's easy to go overboard with the "more is more" approach, so find patterns that complement one another and then work in pops of color.
Biophilia
Designers predict homeowners will be clamoring to bring the outdoors in to achieve serene, cozy spaces. Materials like recycled wood and stone will be heavily incorporated, and of course, with all the physical and mental health benefits of living flora, plants will continue to be brought indoors to achieve the perfect blending of outside and in. Designer Becky Shea notes, "adding a living wall or a low-maintenance biomontage wall to a little corner of your home makes your space beautiful while improving mental health and the overall ecosystem." What's not to love?
Know that there's not a hard cutoff or deadline for incorporating design trends, and your interior design should ultimately make you and your loved ones feel at home. But if you're wanting to play with updating your look, choose a trend and a room to explore it within, and remember to have fun!
---