5 Tips to Help Declutter Before the Big Move
July 29, 2021
Accumulating stuff is often a part of life. Extra cookware. Board games. Those toys the kids used to absolutely love. All the things.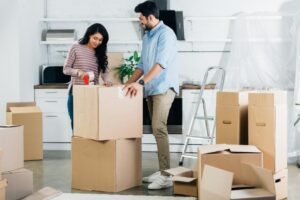 Whether you're buying or renting a new place, moving abroad, or across the country, the thought of hiring movers and making any kind of a "big move" can seem daunting to relocate all of your belongings. It's no surprise that moving often tops the list as one of life's most stressful events, simply due to having so many details to organize.
Yet planning ahead when you're moving into a new (or "new to you") home can also be a cathartic way to purge things you no longer want or need. Additionally, having fewer items to pack or ship might even save you money.
Here are our 5 favorite tips to help you declutter before the big move begins:
Take inventory.
Some people prefer an Excel spreadsheet or basic notebook, but we love managing a thorough list through Google Sheets because then it's available to you from any device. Detail everything you own and wish to consider packing or getting rid of — or at least all the major categories.
Designate items in each room to Pack, Sell, Donate, or Store.
Think about what the next house offers — both in terms of storage and also electronic hook-ups (especially if you're moving internationally), room layout, and of course basic function once you arrive. For example, not sure you'll need that soup tureen set in the next place … but you might want it when you return from overseas? Consider asking a close family friend to house some items on your behalf.
Start the sales process early and often.
eBay, Craigslist, and Facebook Marketplace all offer online selling to your community and beyond. Take those higher-resolution photos in strong lighting. Another option is to online resale sites such as thredUP and Poshmark for better-known brand names and high-quality clothing. To avoid sharing personal information, think about meeting in a public place (such as the parking lot at the library) and consider using a separate email or Google voice number to protect your privacy. If the timeframe works, a local consignment shop like Plato's Closet is another option.
Give away unsold items to family and friends.
If there are some pieces that don't sell, you've got those high-res pictures, so be sure to "share the love" with family and friends for either no payment or a steep discount.
Donate remaining items after you've offered them to family and friends.
The local resale shop, AMVETS, and Habitat for Humanity's ReStores all accept donated clothes and household goods. (With Covid restrictions, double-check that they are still taking donations, and if needed, make an advance appointment.)
At Beltmann, we'd love to help you prepare for your upcoming move and storage needs. Just contact us for a free contactless quote.
For more tips on how to fully prepare for an interstate move, check out our previous post.
---