Hacks for Maximizing Storage in Small Places
June 21, 2018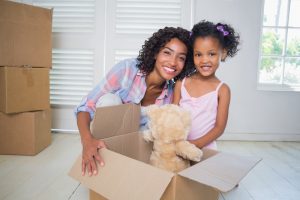 If you're thinking about downsizing that means you will not only be downsizing your home, but also your storage space. It goes without saying that you'll most likely be sifting through things before your upcoming move. As you think about your next place and plan for how you're new life may fit into a smaller house, here are some tips for how you can best maximize small space storage.
Think Vertically
Consider building your storage up – look at your closet height and be smart with maximizing the full space. Even if you'll need a step stool to reach the top shelves, it will help when you use all of the square footage as a storage area. You can use things like tall bookcases, if you don't feel like splurging on expensive closet organizers.
Use The Door
Most people don't think about the fact that you can hang storage onto the back of the door. There are tons of clever options for storing everything from shoes to cards, notebooks or craft supplies. Check out Target or specialized retail shops like the Container Store to get an idea of what kind of over-the-door storage options are available now.
Use Wheels
Buying storage options on wheels helps to solve a few problems. You can easily access the units and move them around to different areas. You can also move them out of the way to access deeper parts of your storage area. Wheels make accessibility a breeze.
Buy Specialty Containers
Look at the corners of your space; can you squeeze something into those areas, so you are using every square inch? Think about taking your storage space measurements to a specialty container or storage store to ask for recommendations. They may have a specialty store item that may fit our corners or make it easier to access your craft items.
Once you beautify your new space, we would love to check out pictures and learn more about how you managed to maximize your storage! And, as always we love partnering with clients on their next move. If you ever have questions, please give our team at Beltmann a call.
---