Trends: Is WWOOF Your Next Big Moving Adventure?
August 9, 2018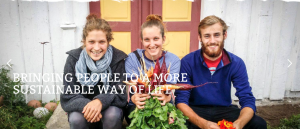 If you're itching to go on an adventure, you may want to check out WWOOF. It's a fast growing community of people who are relocating to organic farms worldwide to live and learn about agriculture. WWOOFF is the organization that links volunteers with organic farmers around the world to help promote cultural and educational experiences based on trust and non-monetary exchange.
Volunteers (fondly called "WWOOFers") live alongside their host and help with daily tasks and experience life as a farmer. There are different set-ups available – most of the time your accommodations are complimentary and sometimes food is also included.
Host farmers open their homes to receive visitors from their own country or abroad who want to connect with the land and support their organic movement.
Here's how you get started on this adventure:
Choose your destination
Join the WWOOFF group that's right for you
Find a host
Travel and enjoy WWOOFING
There are many options for stay lengths – it could be for a weekend or 6 months to a year. You can select which country you're interested in visiting and then can review requests from the hosts in that area. The messages will usually include the location and types of work they're looking for. You can find which location and tasks are of interest to you. Some are more manual labor type tasks – like building chicken coops or barns. Some include gardening with the actual plants and maintenance.
So, if you're passionate about farming and have a desire to travel – WWOOF may be an interesting adventure! The organization is located in over 120 countries around the world. Some farms will take on full families and you can get your kids involved in working as well.
For more information and to check out their FAQs – visit their website
And, as always – we are here for you once you decide on your next adventure to either help you move, keep your things in storage or connect you with a realtor. At Beltmann, we want to be your one destination for all things moving.
---