Moving 101: 7 Moving Hacks to Maintain Your Sanity
November 5, 2021
If you're dreaming about lists and storage items, you might have a penchant for organizational management. Or, perhaps there's an upcoming Moving Day in your near future?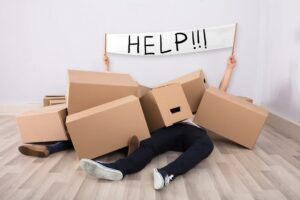 Hiring professional movers can help alleviate much of your moving day concerns, but since there's still a slew of things to organize, here's our list of seven top packing ideas and strategies to help you pack like a pro and maintain your sanity in this busy season of life.
You'll want to donate like crazy or consider having a garage sale to help you rid your household of anything you no longer need or want for the next place. (And yes, if the garage sale doesn't sell off all that you need to purge, make plans for a healthy donation to a nearby friend or charity!)
If you're packing yourself, get those packing supplies early! You might even consider assigning a different color duct tape for each room in the house to ease the unloading and unpacking process.
Wrap your silverware tray with paper and tape or plastic wrap. This makes for a much simpler transition in the move from one house to the next!
Fill your large containers with smaller items. For instance, you might want to put spices in a slow cooker. Throw the bath towels in a laundry basket. Place paper towels, garbage bags, and cleaning rags in a large trash can. Or pack up books in a suitcase with wheels.
Use a large plastic trash bag to quickly stow your hanging clothes, still on the hangers — helpful whether they're going into a wardrobe box from a moving company or packed with just a few essential items with you in your car.
Snap a picture of your large electronics cords before you take them apart. This will make the process of re-assembling them go significantly more quickly. (This is particularly helpful if you're hiring a moving company!)
If you haven't already, invest in a few large storage bins to store seasonal items such as holiday decorations or winter/ summer sports gear that isn't used year 'round.
Contact Beltmann Moving & Storage
For more ideas, you'll want to check out our checklist of what to do in your new place before moving in. If you're considering a move locally or across the country, Beltmann Moving & Storage is here to help you plan a stress-free move. Contact us today to start the conversation or get a free quote.
---