Exploring Austin: A Visitor's Guide to Austin, Texas
September 9, 2022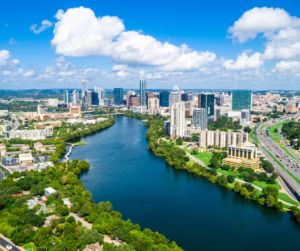 Whether you're traveling from a nearby Texas city or scoping out the town for a potential move or relocation, exploring Austinand its environs should bring a smile to your face. With bountiful sunshine (over 300 days annually) and loads of funky music and art festivals, the capital of Texas offers an abundance of things to do for every age and stage.
Austin's unofficial motto is "Keep Austin Weird" … which harkens back to an eclectic college town alternative vibe, but actually began as a rally cry slogan for small businesses in 2000. For those who only have a day to play, here's our list of the top 5 places to check out in Austin.
Stop #1: Morning swim at Barton Springs
Within Zilker Park's 350+ acres lies one of the crown jewels of Austin: the 3-acre Barton Springs Pool. Fed from underground springs, the pool has an average temperature of 68-70 degrees, making it ideal for year-round swimming. Over the years, Barton Springs Pool has drawn people from all walks of life. Today, Barton Springs still attracts a diverse crowd of people and has seen record setting numbers of visitors nearing 800,000 in recent years.
Stop #2: Lunch at Lake Travis
After you've worked up an appetite, head to an early lunch at the outskirts of town at nearby Lake Travis — the most visited freshwater lake in the state of Texas. It's a mecca for water sports, lakeside dining, and live music. You'll want to take a peek through The Oasis! Located on a cliff 450 feet above Austin's Lake Travis, the 30,000-square foot restaurant and special event center houses eight event rooms and multiple dining decks overlooking the Lake, able to accommodate parties from 2 to 2,500. Worth noting is that this place also offers spectacular sunset views!
Stop #3: Segway Tour at the Capital
For a more thorough view of Austin-proper, try sightseeing in Austin by Segway on a 1.5-hour tour that allows you to quickly cover more ground than other types of tours. Get an overview of downtown Austin and capture numerous photo opps as you pass by the Texas State Capitol Building, Congress Avenue, Warehouse Entertainment District, Lady Bird Lake, the historic Driskill Hotel, and other landmarks.
Stop #4: Dinner along Town Lake.
Whether you come for queso or barbecue, when in Rome …  you simply have to get the Texan goods. Dine near 6th Street or along the Boardwalk at Town Lake, the nickname for Lady Bird Lake, which is a man-made reservoir of the Colorado River in downtown Austin. Some of our faves include: Torchy's Taco's, 1822 S Congress, Austin, TX 78704 or Rudy's Barbecue, Austin, 2451 S. Capital of Texas Hwy., Austin TX 78746.
Stop #5: See the bats at Congress Ave. bridge.
Catch the largest collection of bats in North America — more than a million strong — who begin leaving their under-the-bridge bat "cave" about 30 to 60 minutes before sunset, and then fly out in full force right as the sun dips. You can watch these Mexican free-tailed bats from the bridge itself, or make a picnic dinner or dessert out of it along the field next to the Austin Statesman. Bonus treat after that? Catch a drink or dessert at the Hyatt Centric Congress nearby, 721 Congress Ave, Austin, TX 78701.
From there, head to your local music place of choice or festival, depending on the season.
At Beltmann, we're always available to help with any upcoming moving and storage needs, whether that's a local move, across town, or across the country via a full interstate relocation. Contact us for a free contactless quote, and we'd be happy to help walk you through the process.
---