Do It Together: 5 Home Projects to Try with Kids
December 21, 2021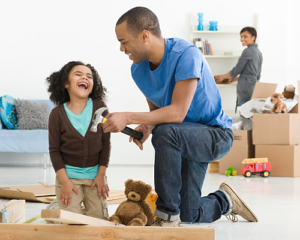 Kids are natural creators, filled with intense curiosity and chock full of imagination. Why not tap into some of their creative energy and tackle some house projects as well? Whether it's your own family, a niece or nephew, or your close family friends and neighbors, working with children can bring out the inner child in all of us.
Could you use some kid-friendly inspiration? Check out these project ideas for quality and quantity time together …
DIY Chair Makeover. Before donating or recycling that old chair (and possibly even an ottoman), see if there's any way to upcycle it with some fabric paint and a fun-shaped sponge brush. Circles, hearts, clouds all make for good ideas to test, ahem, showcase your little one's artistic ability.
DIY Cork Board. Trying to find the perfect spot to display artwork, keep track of the school lunch menu, or maintain the family calendar? Work with your youngster to frame and glue some cork board to a strategic location of your choice.
Ice Dye Pillows. You've probably tried some tie-dye at some point in life … well this is an even "cooler" version, since there's ice included! Using white fabric, liquid tie-dye, ice, and a bucket, the goal is to introduce color in various shades and grades. Worth noting: This project can be quite messy, so be sure you have the rubber gloves ready. You can find the full details and instructions, here.
Pinterest-framed Wall Art. It's cheap, easy, and simply gorgeous. What's not to love? Draw or print your artwork that you've found online and then place them in a floating glass frame. Voila! Done! These can also make great gifts for birthdays or the holidays.
DIY Coffee Mugs. Grab the dollar store white ceramic mugs, some sharpies, and get busy creating. Then to seal in the vibrant colors, just bake them at 400 degrees Fahrenheit for 45 minutes.
As always, if you need help planning your next move to unleash even more entertaining or DIY options, Beltmann would love to be a part of your moving and storage needs. You can contact us today for a free, no-obligation estimate and a contactless quote.
---
Popular Posts
https://www.beltmann.com/wp-content/uploads/2021/02/Untitled-design-98-150x150.png