Homebuying 101: 15 Things You Need to Invest In After You Move
September 23, 2022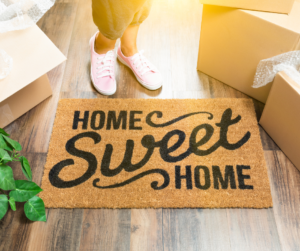 Packing. Moving. Closing … oftentimes, the process of moving from a rental into a new home can all feel a bit like a blur. When you work with a pro moving company, that should help you have a stress-free moving day! But once you're all moved in, the real joy of homeownership begins. Plus, it's much easier to plan for a new home purchase when you know what to plan for!
Here's our top list of items to try to add, once you've purchased and moved into your new home:
A ladder. To help with life's ups and downs.
Fire extinguisher. Keep at least one in the kitchen and one near the furnace, and be sure to have it charged and maintained yearly. If it's more than 10 years old, replace it.
Smoke and carbon monoxide detector(s) — at least one smoke detector for every room, and one carbon monoxide detector per floor of the home.
A tool kit for repairs and hanging heavy pictures. Decorating and repairing might only need a hammer and a level, but more extensive DIY repairs could involve a wrench or socket racket set, extra pliers, or a power screwdriver.
Extra plungers/ toilet bowl brushes. Perhaps your new place has more bathrooms — prepare accordingly.
Extra-long extension cord(s). This can come in handy both indoors and out.
Lawn care tools like a lawn mower, edge trimmer, rake, and weeding tools, garden hose, and a wheelbarrow.
Snow care tools for cold winter climates. A shovel, ice melt, and possible snow blower.
Indoor thermostat. Go green and get a programmable one or a smart-device tool.
Home safe. Store important mortgage documents and extra copies of your wallet contents, should it ever be stolen or misplaced.
Emergency kit. Extra batteries, a first-aid kit, etc.
A grill for the back yard or patio. Perfect for warm-weather dining and entertaining guests.
Outdoor furniture. Another part of the warm-weather hospitality is adequate outdoor seating, from deck furniture to a hammock to Adirondack chairs around a firepit.
Power drill. See also, the tool kit.
A bucket. From cleaning up messes to storing cleaning supplies, a bucket can help you clean the floors, bathrooms, and more.
At Beltmann, we would love to help with any upcoming moving and storage needs for your new home, whether via a local move, across town, or across the country via a full interstate relocation. Contact us for a free contactless quote, and we'd be honored to help walk you through the process.
---