Make that Sale: How to Stage Your House to Sell
September 30, 2021
Making the decision to list your house and move can sometimes be a relatively easy one … but the actual selling part? That often takes a bit of work, even when you're working with an experienced realtor.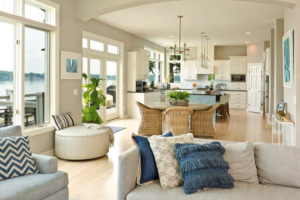 What's a homeowner to do? Staging your home can help you showcase all the advantages of your particular house and motivate potential buyers to make that elusive offer.
Before you list your house or hire a moving company, doing some deep decluttering in every room and having it professionally staged by a local company (or staging it yourself) can bring value in the eye of a possible buyer.
Then from there, here are some of the best staging ideas:
Increase lighting everywhere. Fix any broken light fixtures, replace the bulbs, clean your windows, and open up the blinds and curtains.
Create natural, conversational furniture arrangements. Just remember, the furniture doesn't have to work in real life (for instance, perhaps the couch doesn't face the TV) — as it's merely designed to show off the space that sells.
Update the finishes. Whether that's a quick paint touch-up, replacing caulk, or updating faucets and fixtures, try to bring your home in line with today's trends.
Examine the exterior. Curb appeal, and screen appeal, can drive traffic to your home and/or the listing website. Don't forget to keep your eyes on the front and the back of the house!
Set the table. This is an easy finishing touch that can help possible buyers visualize themselves in the kitchen and dining areas.
Make the space appear larger. Try adding mirrors, take out a leaf from a dining room table, and/or remove any extraneous items from the floor to "add space" inside the house.
Make use out of extra rooms. Even if it feels light on actual furniture, make sure potential buyers can envision any spare rooms with whatever suits their needs — whether it serves as a guest room, craft room, workout room, or home office, etc.
For more practical input and home staging ideas, check out the original piece from Zillow.com.
And if you think you're ready to make a move, just contact us today for a free contactless quote or for other helpful moving tips from our team at Beltmann.
---