Feel at Home in Your New Neighborhood
September 26, 2019
After moving, it can take years to feel like you're not just a guest in your new neighborhood and like you truly belong. For those looking to speed up the process, following a few of these tips will have you blending in with and becoming one of the locals in no time!
When in Rome…
Do as the Romans, or neighbors, do. Cruise your new 'hood and make some observations as to how everyone is spending their time. If you notice you're in a neighborhood full of evening walkers, you know what to do! Lace up after dinner and hit the pavement. If the family down the street has a beautiful dog you've admired, grab your pup's leash and walk that way. It may sound forced, but timing out activities to coincide with the locals is a sure way to get you feeling accustomed to the area.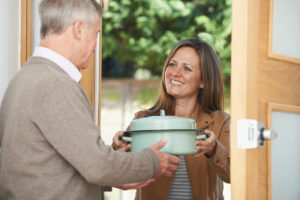 Strike up a Conversation
This is easier for some than others, but remember that fortune favors the bold, and you're much more likely to settle into your new environment if you have some companions! Start with a wave out at the mailbox, and maybe even a question- everyone's been new before, so an inquiry about recycling day or the best local eats will be totally reasonable. For the more introverted types, never fear. You can bridge the neighbor gap digitally. Join an online neighborhood group like Nextdoor, a free private social network for your specific community, and you'll automatically be connected to the locals and be in the loop about local happenings.
Let the Kids Lead the Way
If you're a parent, beginning to feel at home in your new neighborhood can come easily if you know when to look for opportunities. Take the kiddos to storytime at the local library, and leave your phone in your pocket. Take a glance around; there are bound to be other adults nearby who aren't overly invested in picture books. Say hi! Additionally, youth activities are always looking for parent volunteers, so make an effort to help out, and you'll be surrounded by people who you already have at least one thing in common with. Sometimes that's all you need to build a friendship!
Settling into your new location will naturally take time, but getting there doesn't have to be stressful. Let Beltmann take the wheel. Regardless of whether your move will take you across town or across the country, Beltmann Moving and Storage will give you the expert service you need and deserve.
---