What Your Window Treatment Says about Your Style and Home
October 17, 2019
It feels like one of those SAT logic questions: if eyes are the windows to the soul, what are windows to the home? Pretty important! Whatever the right answer is, your window treatments say a lot about your personal style and set a tone throughout the home. Looking to change things up or ready your home for potential buyers? Read on for the look and feel different options can create.
Heavier curtains and drapes lend a dramatic, sometimes formal air to a room. If your personal decor style is elegant and refined, this may be just the look you are trying to achieve, especially in a formal dining area or a master bedroom. However, if you are staging your home, you may want to shy away from this option—even when drawn back, drapes make a room feel darker and less open. Such bold decor might also make it difficult for potential buyers to envision their own style within the home.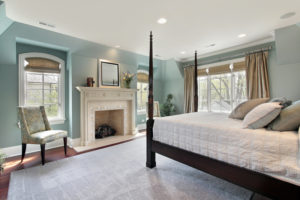 Blinds are a category all their own, as there are numerous style options within this larger umbrella term, and then material options for the style you choose. Vertical, Venetian (the classic horizontal blinds you are probably used to seeing), mini, and panel are all options, each providing great control over the amount of light filtering into the room. Know that the cleaning of blinds poses a small hassle, but as long as the blinds within a room are matching, a buyer will likely find this choice appealing as they offer a bit of a blank slate.
Shades, which are sometimes classified under blinds, offer the same benefits of privacy and control of light as blinds with one key difference: shades are made of one panel instead of individual slats. Additionally, modern shades now have the capability of filtering out UV light. Tie-up shades are perfect to complement a country-chic decor. Pleated shades offer a similar but softened look to blinds. Roman shades, once thought of as ultra-traditional, are experiencing a rebirth to lend a sense of minimalism and structure to contemporary homes. Consider with the shade option that one large panel folding in on itself when raised or lowered will create a dense amount of fabric and thus a sizable portion of the window obscured.
Whether you are staging your home for potential buyers or just sprucing up, consider the statement you want your window treatments to make and the purposes you must want them to serve.
---