Welcoming Entryways
December 23, 2019
With the right design, your entryway doesn't have to feel just like a space to pass through, but can instead be the place in your home everyone comments on and loves entering. If your entryway currently feels more like a chute between the outdoors and in, then try out some of these tips to create a warm, intentionally designed space that will make guests feel welcomed from the moment they set foot inside.
Make a Statement
Currently, what does your entryway say about your style, your family, or the life you lead? Don't be afraid to let your style be apparent right from the front entrance! Painting the interior door a fun color, choosing a bold wallpaper, or going with a patterned floor are all unexpected ways to welcome visitors into your space while simultaneously introducing your design preferences right from the doorway.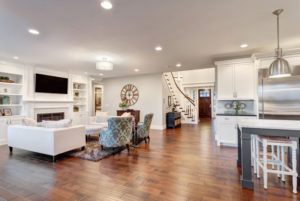 Space-creating Pieces
Entryways are often one of the smallest areas in the home, so use classic design tricks to open up the space. Large circular mirrors or clear tables will automatically make your space seem larger than it really is.
Functionality
As the entry and exit point for the home, your foyer needs to be functional. Storage that looks sleek will keep your entryway from becoming cluttered, but it can also offer a quick seating area like a bench where you and guests can slip on shoes or stow purses. Think about other storage options which will leave things easily accessible but won't look haphazard, like hooks for keys.
Personal Touches
Put your passions on display right from the front door. If you love to travel, include framed maps along the entryway walls. Let your entry table hold some of the design items you consider most "you:" a stack of favorite books, treasured souvenirs, or abstract art are all options for immediately putting your style on display.
The foyer is the first impression of the interior of your home, so make that first statement confidently. Remember to treat the entryway as its own space and not just a passageway, and you'll find you and your guests will love walking through your front door! 
---