Trend Watch: 5 Home Design Trends You Should Know
April 19, 2021
Are you planning a move soon or trying to sell your home? Then you know it's important for homes to be current with the latest design trends, choosing a style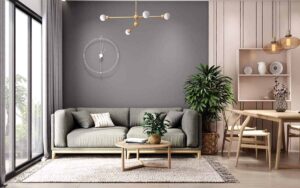 buyers will love. And if you're renovating or remodeling a new house, what are the top decorating things to avoid? Here's a partial list from Elledecor.com of what's hot, and what's not, in home decor.
WHAT'S IN: Integrated Hardware
WHAT'S OUT: Oversized Pulls
Seamless looks add a calming effect and help create a sleek, minimalist design. Look for streamlined, integrated hardware, and try to avoid clunky refrigerator handles or large painted hardware on cabinets.
WHAT'S IN: Environmentally Friendly Fireplace
WHAT'S OUT: Conventional Wood-Burning and Gas Fireplaces
The beauty of a newer fireplace is that it can literally be plopped down into any room of the house, according to Jenny Dina Kirschner of JDK Interiors., as they're easy and cost-effective to install. Not only that, but compared to conventional fireplaces, they create minimal CO2 emissions, and typically don't require any added ventilation.
WHAT'S IN: Bold Monochromatics
WHAT'S OUT: Pale Monochromatics
Gone are the days of pale-colored rooms (think all taupe, gray or white walls and furniture), popular in the late 2010s. Don't be afraid to add some personality or excitement with bold accent or singular colors. "Monochromatic does not have to be pale. Colors like Cobalt Blue, Kelly Green, or even Aubergine can evoke monochromatic in a daring way that's full of personality and elegance," says Johathan Rachman of Decorist.
WHAT'S IN: Layering Old and New
WHAT'S OUT: Perfection
Mixing and matching old and new brings rooms to life — and it helps tell your (and your home's) personal story. According to Lauren Buxbaum Gordon of Nate Berkus Associates, more people are opting toward well-worn pieces and don't mind small scratches on 100-year-pld stone. "It makes them feel at ease with how they function in their own homes because nothing is too precious."
WHAT'S IN: Dark Painted Doors
WHAT'S OUT: Standard White Doors and Trim
Interior doors in a rich, dark color can add an artistic element to the room, not to mention a fun personality. That's great news for homeowners who don't like to constantly keep the all-white paint look looking fresh! Plus, it makes for the opportunity to create a dramatic statement.
To see more of the "in" design tips and trends — from quartz countertops and earth tones to faux marble, visit Elledecor.com.
---