Top Trends in Home Offices
September 4, 2020
As the events of 2020 have required many of us to work from home, it could be the perfect time for freshening up your personal workplace. A recent survey by Mercer, an HR consulting firm, found that nearly 75% of companies now anticipate that a quarter or more of their employees will work remotely.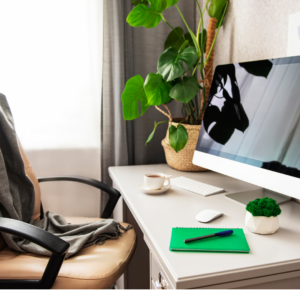 With that in mind, here are some of the latest trends and tips to keep in mind as you navigate your space!
Ditch the tech.
There's no denying, technology plays a role in any home office — but now more than ever, it's best to keep it behind-the-scenes. As you process doing updates to your space, think of ways to hide — or better yet, remove altogether — peripheral items like cords, printers, paperwork, etc. and find other ways to avoid clutter.
Get beneath the surface.
While standard desks are a staple in a corporate office, one benefit of working from home is re-thinking your "desk" surface. Stand-sit desks, multiple-height desks, colorful, brushed gold and tempered glass are all on-trend right now. Tabletops and vanities also make great desk substitutes. Consider making a creative statement with a custom-designed piece that's more of a reflection of your personal style.
Double the fun.
No matter the size or square footage, it's important to find ways to maximize space or potentially reimagine a room's purpose. Whether your home office doubles as a guest room, a backyard shed, or a corner of a larger space within a house or condo, versatility is key. Put another way, we no longer have to clearly delineate our work space, as home life and work life often cross boundaries. Convertible and collapsible furniture like murphy beds also help streamline a room when space is at a premium.
Color combinations.
Most of us are too busy for a psych class, but we're mindful of how our work spaces affect our mood, creativity, stress, and energy levels. Try choosing a simple neutral palette that can boost your productivity, and enhance your creative output. For bold, darker colors, we love Navy Hale and West Coast by Benjamin Moore. Looking for a warm Instagram vibe? White, but not too white? Try Pointing by Farrow and Ball or Benjamin Moore's Simply White.
No matter what design direction you take, be sure to look for ways to personalize your décor and let your personality shine through.
---