The Top 7 Kitchen Storage Hacks to Preserve Your Sanity
October 8, 2021
It's true that the kitchen is one place where not only people gather, but oftentimes, so does our stuff. Whether your kitchen is grand or tiny, there are always opportunities to maximize the space you have. These are seven of our favorite storage ideas!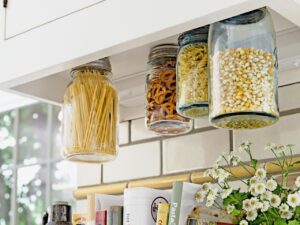 Add a Lazy Susan for Storing Seasoning and Bottles – If you have several room-temperature bottles, from olive oil to balsamic vinegar, try incorporating a small lazy susan into your cupboards or cabinet to quickly give you access to multiple bottles, spices, and anything in a cylinder.
Use Plastic Shower Caps to Store Leftovers – Just throw one over a bowl or a plate, and voila! Instant (and re-usable) storage and easy clean-up for leftovers.
Get 3-Ring Binders to Store Recipes – Sometimes it's easy save items electronically. But if you want quick and easy to access to ingredients that also avoids extra screen time (not to mention skipping through tons of ads) … try printing your favorite recipes and then moving them into a binder for easy access later.
Small Baskets For the Win – From canned goods to silverware, adding a number of small storage baskets can be a definite sanity and space saver! We're talking in the pantry, the junk drawer, or next to the coffee pot.
Magazine Files Are Your Friend – These can store paper goods, placemats, takeout menus for local restaurants, and more. (Just move anything vertical into them.)
Hang or Stack Your Pots and Pans – Find the space-saving system that works for you, and either move your pots and pans overhead or find a flexible system to organize them inside your cupboards. Organizing them this way helps you avoid having to move them each time you need to use or wash one.
Organize Your Water Bottles – This storage hack especially comes in handy if you're exercising a lot or if you have a lot of people living under one roof. You can find water stackable water bottle organizers at your favorite home goods stores or online. One option to try: a hanging shoe organizer inside a coat closet or pantry door.
At Beltmann, we'd love to help you prepare for your upcoming move and storage needs, whether that's across town or across the globe. Just contact us for a free contactless quote.
---