Summer Moving Do's and Don'ts
August 5, 2022
Summertime.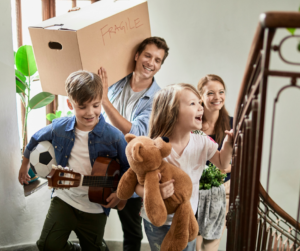 Living can be easy, and often even nicer when you have a new place to live. So for many Americans, moving into a new home during the summer months is part of the plan. With kids out of school and longer daylight hours, moving can be easier for students and busy families to adjust schedules, though there are some wrinkles to avoid.
On average, more than 40 million people move each year, and an estimated 80% of moves will happen between April and September. Here's our list of do's and don'ts to bear in mind when you're moving during peak season.
DO plan to book your moving company in advance.
Given that the vast majority of people move in the summer months, hiring professional movers should be considered as soon as possible to get the best dates and times available. Ideally, schedule your move (and if necessary, storage) at least two months before you relocate or as soon as you sign a lease or sell your home.
DON'T expect a big discount.
It's not unheard of to have great discounts from a move happening in winter months — but since demand usually outpaces supply in summertime, do expect to pay a little more if you're moving between Memorial Day and Labor Day (and for a more budget-friendly move, steer clear of big holiday weekends).
DO dress for the occasion.
Whether you're purging, packing, or un-packing, wearing light-colored, athletic clothing that breathes can help you prepare for moving in intense heat.
DON'T forget to stay hydrated.
This can help prevent heatstroke, so drink when you're thirsty. It's also a good idea to have water bottles or sports drinks on hand for your movers at the current and the new home. Additionally, be sure to add sunscreen. Plenty of it.
Having a pet around on moving day can be a distraction for you, or an interference for the moving company. Be sure to find someone to take care of any animals that might crawl or swim around (or worse, get loose), or arrange for their transportation in advance if it's a full relocation.
DON'T leave your kids out.
Depending on the age, some kids might want to be more involved than others. For younger pre-school age kids, it could be a good idea to ask a friend for help or hire a babysitter to keep an eye on them. For school-age children, try to incorporate them into the planning, packing, and decision-making (i.e., who gets which bedroom, which side of the room should have a dresser, where to put certain toys/ games/ food or utensils, etc.) where possible.
DO put your perishable foods in a cooler.
The last thing you want is a bunch of rotten food. For local moves, plan ahead with the right storage supplies and coolers with ice. (As a reminder, head here for a list of items that cannot be transported by your moving company.)
DON'T forget to keep it fun.
After completing all the hard work on planning and executing your move, reward yourself and your people with a summer-y treat like slushies or ice cream.
If you're considering a summertime move locally, across the country, or even overseas, Beltmann offers moving, relocation and storage services for any size house or budget, with multiple locations across the USA. Simply call us at (866) 252-2383, or visit our website for your free estimate today.
---