Spring into Action and Sell Your Home with Curb Appeal
April 9, 2019
Spring temperatures are right around the corner, and with warmer weather comes the chance to make the outside of your new home or the house you are putting on the market look inviting. Nothing says "curb appeal" better than a beautiful exterior. In fact, according to Realtor.com, well-landscaped homes can sell for 5.5% to 12.7% more than their non-maintained counterparts. Check out these tips to ensure your house feels like a home from the moment neighbors or potential buyers set eyes on it!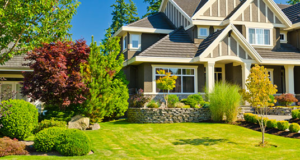 Credit to Bankrate
A Maintained Yard
A well-manicured lawn indicates owners care about maintenance and details; a lifeless looking lawn could send the opposite signal. Spend some time pulling weeds, trimming bushes, and putting the sprinkler to work this spring. While you're in the yard, think about utilizing or updating mulch. New mulch not only adds fresh color to your garden, it also adds dimension. Give your trees the nice border mulch provides and watch the exterior of your home transform.
Flora
A few pops of color go a long way. Find varieties that don't require continuous maintenance, which both you and a buyer can appreciate! Perennials such as Geraniums and Hibiscus will provide months of color without extensive work. If down in the dirt gardening isn't your thing, opt for some statement plants in hanging baskets, such as the dramatic Petunia.
Smaller Details
Foliage may go a long way, but a lack of attention to manmade details could alert potential buyers to problems throughout the property. Rust or broken fixtures for example can be quick, inexpensive repairs. Special areas to note: light fixtures, mailbox posts and flags, edging materials used for gardens, and chipping paint.
Think of the outside of the home as the first impression in a job interview. Just like a firm handshake, eye contact, and a warm smile sets the right tone, plants, colors, and maintenance give a first impression of your house. Sure, if the outside isn't perfect you may recover once they get in the door (with a beautiful layout and interior design, for example), but just like in an interview, why not start off on the right foot?  If you want potential buyers to know attention has been paid to the inside of the home, pay attention to the outside, too! And once you secure the deal, call us in order to make the transition to your next home as stress-free as possible.
---