How to Host a Spring-Themed House Warming Party
March 26, 2018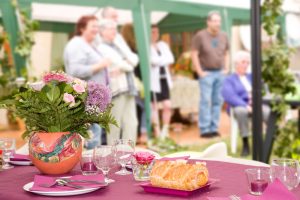 If you've just moved into a new home, you may be trying to figure out how you can celebrate the season and introduce people to your new digs. If you need a little inspiration, here are some creative ways to get your home spring-ready and meet your neighbors.  
STEP 1: VISIT A FLORIST
Buy a mix of 3-4 flowers from your local florist and some vases from the dollar store (or have your guest bring a vase). You can print off some pictures of bouquet mixes to offer your guests some inspiration.
STEP 2: GET EDUCATED
As the host, think about educating yourself on some flower arrangement tips. Here are a few you could share:
Always trim flowers at a 45 degree angle and one inch from the bottom
You can open buds quickly by putting them in warm water first and then cold water
You can use florist foam to keep flowers in place. You should soak the foam for 15 minutes before
Strip off any leaves that fall below the water line
Add large and heavy flowers first to ensure that the placement is even
For more tips read this article.
STEP 3: SEND AN INVITATION
Send an invitation that includes your new address and a packet of flower seeds. There are a lot of e-vite options if you don't feel like paying for the stamps or paper.
STEP 4: PLANT OR POT
Buy some pots in different sizes and assorted plants. If you don't have time to plant flowers, just put some in pots on your porch or around the house in windowsills.
Use lots of green in your décor and bright colors to bring some life to your new home. Things like pillows and centerpieces are quick and easy way to add some extra color to your home quickly. If the weather is nice, consider having your party outside.
---