Shocking Things That Increase Your Home's Worth
February 6, 2018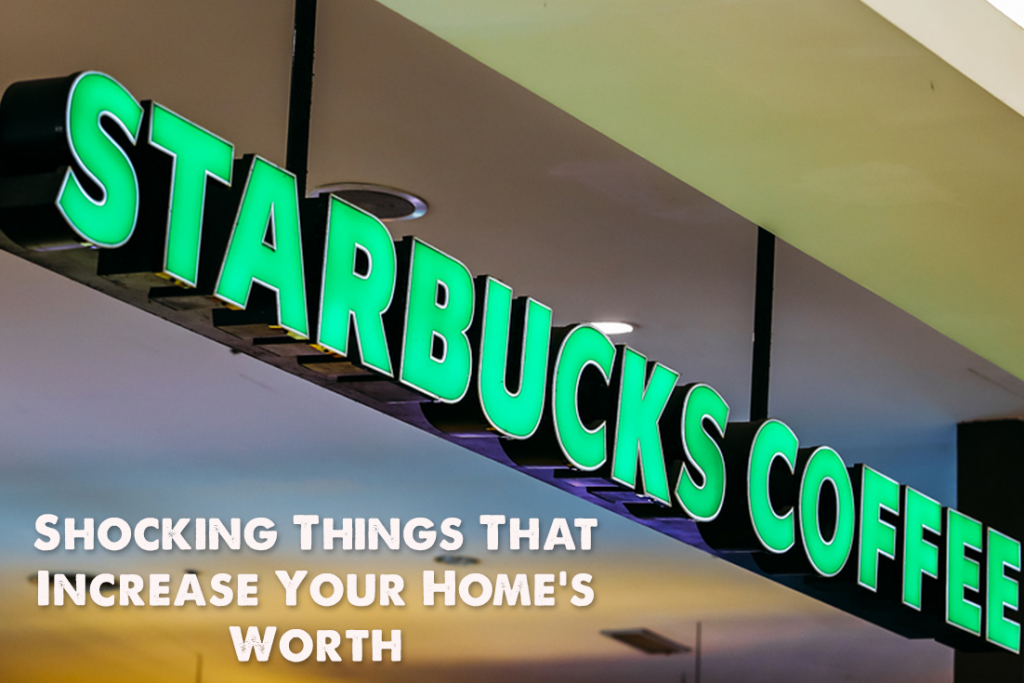 Whether you're buying, selling or thinking about it in the future – a home's worth is one of the most important factors to understand. You probably know a home's value increases if it has a full basement, updated kitchen and more bedrooms – but, there are also a few other factors that seem to be weighing in lately.
The home's proximity to a Starbucks
People want their darn coffee! A 2015 Zillow report found that between 1997 and 2014, homes that were situated within a quarter mile from a Starbucks, increased in value by 95 percent, over the national average of 65 percent. Are you surprised? You could argue that Starbucks are typically located next to other amenities, so it usually means you're getting more than just a good cup of joe.
Blue is in, White is Out
Yes, you read that right…blue! Last year blue kitchens were everywhere and a sign of an upgraded space. According to Zillow's 2017 Paint Color Analysis (didn't know that existed?), their team reviewed more than 32,000 photos from homes sold and homes with blue kitchens sold for more than $1,809 premium, compared to similar homes with white kitchens.
Sinks and Doors
If your home has words like "barn door" and "farmhouse" sink in the description, it seems to be selling quicker. According to a 2016 Zillow analysis, they reviewed over 2 million descriptions and listings with "barn door" mentioned sold for 13.4 percent more than expected and 57 days after than comparable homes. Listings with "farmhouse sink" sold for around 8 percent more than the average.
How Close You Are to a City
Home values in NY metro around are worth $4.6 trillion dollars (according to Zillow). The average urban home is now worth 35 percent more than a home in the suburbs.
Once you're ready to cash in on your home's value or buy a new home, Beltmann Relocation is here to help make your next move a smooth transition. Give us a call or request a no-obligation in-home estimate.
Hansen 
The BEST Seattle Winter Activity That Will Help You Relax and Beat The Chill
Now that the winter is in full swing, many of us are looking for ways to enjoy the winter, stay active and find adventures around the city. One of our favorite winter adventures is to the local hot springs. If you've never been in the winter, you are in for a treat. It's amazing to go when there's snow all around and you can take a dip into the relaxing water. Here are our favorite local hot springs destinations:
The Adventure of Getting to Goldmyer Hot Springs
Although it's about 15 miles of potholes from the North Bend to Goldmyer Hot Springs, it may be worth the adventure. You must call to steal one of the 20 reservations before you arrive (each are $15). After driving down I-5 to North Bend, to traverse the potholes of Middle Fork Road. After the drive you will hike about 4 miles to a cabin, which is the home of the Goldmyer Hot Springs caretaker. After checking in, you will hike another quarter mile to the hot springs.
The experience
There are three terrace pools, waterfalls and 125-degree waters. You will enjoy the waterfall sounds in the background, while you look up at the frozen forest branches – you will be able to let your cares melt away. Goldmyer is the closest hot springs to Seattle – it will be a very good day trip for anyone with a four-wheeled drive.
The good news is the Middle Road was paved on November 1, but the last few miles with up until the trailhead will still have potholes and will require four-wheeled drive.
Before you go
If you want a map to the springs you can visit their website. Remember to make your reservations before you go. And, as always – let us know if you there is any other way Hansen Bros. can help make your transition to Seattle a better one. Our team is always here to help you in any way.
George 
Best Tips for Updating Your Home on a Budget
Whether you're planning a move, just moved into a fixer upper or want to upgrade your current home – you may be looking for tips on the best bang for your buck when it comes to renovation costs. Being a mover, we love coming alongside of you and offering tips for how you can best make any transition ahead a smooth one. Trulia's Design Panel has some good advice for how to update for under $10,000.
Kitchen Updates Worth the Price Tag
Kitchens are on the list of top things people plan on upgrading in their home. The best place to invest is on the countertops – a good tip is to check out a local stone supplier to see if they're able to sell you any remnants for a discount. Updating your counter tops to marble or quartz is an easy and cost-effective way to instantly change the look of your kitchen. The second tip is to hand your kitchen cabinets professional spray-painted – skip trying to do this yourself or pricing custom cabinet options, painting will give your cabinets the facelift that you need, without the costly price tag. Consider doing a white, if your kitchen is small or if you want to add color, consider navy if you have an island.
Bathroom Renos – Tile is Worth The Price Tag
The second place people tend to want to upgrade, are bathrooms. The Trulia experts acknowledge that tile is the most cost-effective way to give your bathroom a lift. Consider adding it to the floors, shower, even backslash behind the sinks. Classic white subway tile is an inexpensive option that will give your bathroom an instant updated look.
Bedrooms That Sell Themselves
If you have flooring that is less that desirable in your bedroom, the Trulia experts recommend that you add a rug as an added design layer. Paint is also a secret weapon that many people forget about. If you have a small bedroom, consider paint that's lighter to open up the space. You can consider some wallpaper for an accent wall if you feel like adding some texture and personality to your room. Consider using wallpaper that's neutral, so that if/when you consider selling it won't be too much for a prospective buyer.
As your preferred Pittsburgh Mover, we enjoy helping you make this transition a smooth one. Good luck with your upcoming renovation and we hope you find ways to save some money, while adding value to your home! 
What's Selling in Pittsburgh and What is Not 
As you consider buying or selling in 2018, it might be worth understanding the market history to better predict demand. That's why we love the article posted by the Post Gazette who just completed a 2017 analysis on what sold in the city during 2017. Here are some of the key findings: 
Large is Out, Small is In
The majority of homes that sold in Pittsburgh in 2017, were smaller, lower priced ones – the demand was high, many sold as fast as they were listed. The larger, pricier homes sat longer and some didn't sell at all.
Larger Estates Are Parsing Out
The Tull Penthouse was an example of a property that was listed by the Post Gazette, it was put on the market for $13 million in February and didn't sell. The owners decided to separate out the home into three and re-list (each for $9 million).
Farmhouses are Hot
The Post Gazette listed a farmhouse for $170,000 and quickly sold for $130,000 in November. People were going crazy over the listing, which shows the demand for homes in this price range with some history and character.
Starter Homes in Demand
Listings that were in the $100,000 range are flying off of the market just as quickly. An example, the Post Gazette posted a starter home at 425 Queenston Street in Overbrook – the house was listed for $110,000 and sold for $100,000 in May.
Other properties such as condos and townhouses also peaked interests in 2017. If you have a property that's in the $500,000 range, you may have to be ready to get creative and aggressive. If you're looking to sell a starter home, know that you don't have to settle when the first offer comes through. If you would like more details, check out the full article in the Post Gazette.
Reds Transfer 
Why St. Cloud Real Estate Agents Are Partnering With Us
We love real estate agents and have started developing strong relationships with many professionals cross the St. Cloud area. We value these relationships and want to do everything we can to ensure we are working well together to make every customer's experience the best it can be. Here are some of the reasons St. Cloud agents love working with us:
We Help Customers End-to-End with Their Move: Our partner agents and Red's Transfer start working together even before the home is sold. We offer discount storage to our preferred agents and help to get homes sold by helping with the de-cluttering process.
We Can Do Everything Moving: Whether our agents need help with storage, a business move or just a move across town – our extensive network allows us to stand in the gap and offer everything that may be needed.
We Offer Free Estimates: It doesn't cost our real estate customers anything to get an estimate. Many agents recommend their clients start the estimate process early so that they can add the moving costs into their budget when they account for their total move costs. It helps to understand all of the cash in and cash out that will take place around closing time and can even help the seller strategize on how much they will need to sell their home for.
We are Local to St. Cloud and Move Other Places: Although we have a rich history in St. Cloud, we are able to service Alexandria, Brainerd, Bemidji, Duluth, Fergus Falls, Elk River, Monticello, Rogers, St. Michael/Albertville, Walker, Wilmar and beyond.
Our Partnerships Make Agents VIP: When we set up a partnership with a St. Cloud agent, we treat them and their customers with extra care because we want to make sure we are meeting everyone's needs and time tables. We offer our marketing materials to our agents and also take on their materials as well.
We hope all of our local partnerships not only strength our local economy, but offer our mutual customers extensive benefits. If you're interested in being a preferred agent, please call us at 320-251-2833.
---