Seasonal Spotlight: Fall in love with San Francisco
October 23, 2019
If a visit to San Francisco isn't on your calendar for fall break, you may want to reconsider! Autumn is the perfect time of year to visit, what with the sunny, but not unbearable temperatures and the unlikely chance of rain, and there are endless options of fun for you and the family.
Fleet Week
During Fleet Week, head down to the Fisherman's Wharf district for an airshow courtesy of the Blue Angels. You'll also be able to get an inside peek at military ships, enjoy some great food, and hear some live music.
Hardly Strictly Bluegrass
Early in October, you'll want to visit Golden Gate Park, which is worth seeing in its own right, for this free musical extravaganza. As the name entails, you'll hear performers from a wide range of genres, not just bluegrass!
Halloween Hoopla
Another free event, Halloween Hoopla offers fun for the entire family. At the annual Hoopla, look for the palm reader, games like the Mummy Wrap, and even a costume parade. All this fun in more is encompassed within the Yerba Buena Gardens Festival and is sure to bring squeals of delight from the littles and plenty of fun memories for adults.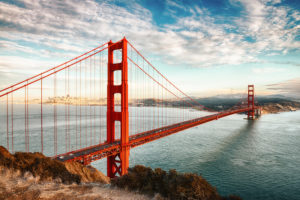 Napa Valley
Just a short drive up the road from the City by the Bay is Napa Valley. Fall's gorgeous weather in combination with the season's harvest brings enough of a crowd to feel bustling but not overly crowded. Enjoy learning about and drinking wine while looking out over a vineyard's fall colors.
Football/Basketball
As arguably the best time of year for sports is upon us, catch the local sports teams in action this season. Make the drive to the new 49ers stadium, about an hour out of the city, or check out a Warriors game.
See the Famous Sights
You can't come to San Fran without seeing the Golden Gate Bridge, but in addition to walking the bridge and seeing its mini-museum, there are a few other landmarks to see while visiting. Twin Peaks, two hills which offer spectacular views of the whole city, offers the chance to hike (or drive) and then relax and enjoy the view from the grassy park at the top. Lombard Street is another quintessentially San Francisco sight—steep hairpin turns offer you an experience unlike anywhere else, and walking down is tons of fun.
No matter what brings you to the city this fall, know that you're arriving at one of the most perfect times of year. Enjoy everything the city has to offer, which includes one of the best in moving and storage, Beltmann, who has more than 100 years of experience and the know-how to get your belongings safely to wherever you call home.
---