PorchFest: A New Way to Meet Your Neighbors
December 20, 2018
Originating in Ithaca, New York in 2017 – Porchfest is a grassroots way that communities are creating stronger communities through arts and music. Many cities around the U.S. have adopted this type of event by identifying willing neighborhoods to open up their porches to local musicians on a certain day of the year. Schedules are posted online and communities sprawl out on lawns, streets and lawn chairs as they enjoy a certain part of the outdoor show. Once finished, neighbors migrate to the next home in the neighborhood for the next part of the day.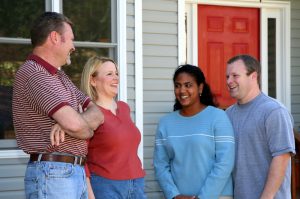 People have gotten creative with Porchfest and have enlisted food trucks to stop by at certain times during the day. Neighbors have set-up lemonade stands for refreshments and neighbors have gotten cozy on couches in the yard.
If you are a part of an association with a community, budget – this would be a great way to enjoy a day outside with your neighbors, while promoting local talent. Porchfest doesn't have to be extremely formal – if you have local talent that would like to perform poetry, written word or even a single song – let your neighborhood talent participate. You could even have a battle of the neighborhood if enough people have musical talent.
Here are some communities that have recently held Porchfests. You can check out how they do Porchfest in their neck of the woods to get ideas for your next event:
Fredericksburg: http://fredericksburgporchfest.org
Maplewood: https://maplewoodporchfest.com
Grants Pass: http://porchfestgrantspass.org
Modesto: http://www.modestoporchfest.com
Have fun with it and also get to know your neighbors a bit better. And, as always, our team at Beltmann is here to help you make the most of your next move.
---