Out of the Box: Top Tips for Handling Your Moving Materials
September 30, 2020
Moving a household comes with any number of packing materials, from donated boxes you receive from a friend or co-worker, to purchased wardrobes, to specialty crates.
The excitement of finding a new place to live is often paired with a huge question in the end: What do I do with all of these extra boxes it took to bring my stuff with me?
By taking the time to properly remove the boxes from your new home, you'll be well on the way to eliminating clutter and enjoying your new abode.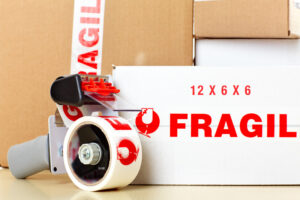 Some questions to ask yourself are:
Do I plan to move again in the next 6 to 12 months? If yes, then consider storing some of the boxes yourself to plan for another upcoming move.
What are some things I might like to store or ship in the near future? Smaller boxes make excellent care packages and general purpose storage. Consider setting aside some of these for your own use.
Do I know anybody in my sphere of influence who could use some packing materials? If so, think about donating boxes, dish tissue and/or packing peanuts to your friend or loved one's moving cause. They'll appreciate it far more than you know!
Do I have any large items that really would be better off in their original packaging? Chances are whatever you have could be found again in the future, if needed. The beauty of working with a professional moving company is that large or unusual-size specialty boxes are always available, so take some of the guessing work out of your head space (or the garage!) and consider simply letting it go.
Pay It forward
Additionally, a couple of other options are still available to you. One is to try donating packing materials and boxes to a non-profit of your choice. You might also try selling or donating items via social media in a community or neighborhood group post.
No matter whether you store boxes, donate, or sell them, there aren't many reasons to hang on to the packing materials. Feel free to toss them, as they're relatively easy to obtain again for your next move!
---