Our Favorite Organizational Tips
March 15, 2019
Spring is (almost) in the air – which means you may be feeling the need to Spring clean. As we help our clients move from their homes onto their next adventure – part of the fun, is helping our clients make their move smoother. One aspect of moving that is always cleansing for our clients – is that moving is a time to get organized and streamline your items. You should never move things you REALLY don't need. We thought we'd gather some of our favorite organizational tips so that you can use them to make your new space functional.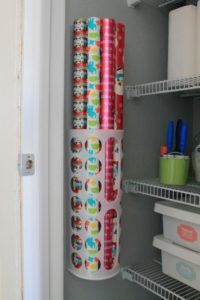 IKEA Shopping Bag Holder Turned Wrapping Paper Holder 
No one knows what to do with wrapping paper, am I right? It's usually tucked away into corners of your closet or shoved under your bed – only me? Well, get that paper off the ground and out of the way with IKEA's bag holder. The best thing about it? These bag holders are only $2.99!! I mean, they are giving them away – you've got to try this.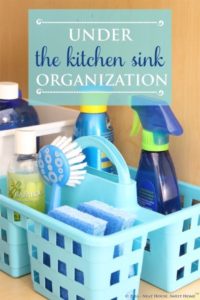 Shower Totes Under the Sink
This one seems super obvious, but also genius. Why not put your cleaning products in a shower tote under your sink so that when you need to access your cleaning supplies, you aren't digging out each individual bottle, while searching for a wash cloth? Put everything in one convenient spot to pull out easily.
Key Hooks for Baking Area
Are you tired of digging for your baking cups and spoons? Consider buying a few inexpensive key hooks and hanging them in your shelves per below. This makes so much sense. Those 3M hooks are also perfect for hanging individual accessories.
And as always we love making your moving experience the best possible. For more moving tips, be sure to follow our blog. We aim to be more than just your day of moving professionals – we want to help you make your new house a home.
---