Homebuying 101: What to Know BEFORE House-Hunting
March 31, 2021
So … you've seen all the HGTV you can muster, watched a ton of DIY videos, previewed the "Color of the Year" paint, and registered for a Zillow account. Think you're ready to start house hunting?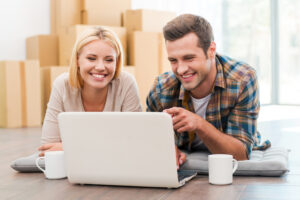 Think again.
Before you dive into the business that is real estate, it's important to get your future household affairs in order. Here are a few hints for success to get you ready before you start house-hunting.
Know Your Credit Score
Unless you're paying cash (a.k.a., full-price) for the home you're planning to purchase, you'll need to get a loan for what you can afford. However, what you can afford to borrow varies greatly depending on your credit score, as that impacts both the loan amount and the interest rate you're eligible to get. Worth noting: This could also involve getting a mortgage pre-qualification.
Some credit cards offer free access to your FICO score (which doesn't affect your credit rating), or you can work with a reputable broker to get a better idea.
Set Your Budget
Just because you can afford something on paper doesn't mean it's wise to spend that amount. Determine what your comfort level is, both the low end and the high end for a home price, but also the monthly fees. If you don't already have a monthly budget for yourself, now's a great time to make one. Having a budgeted amount in mind will also help determine what you set aside for maintenance, decorating, insurance, taxes, repairs, etc.
Save, Save, & Save
Not only will buying a house mean a down payment, but it also means an array of new expenses, from appliances to Home Owner Association (HOA) dues to different furniture in the new space. And before that, you'll want to save for an emergency fund. Most experts recommend saving for 3 to 6 months of living expenses so you can avoid any unwanted credit card debt.
Find a reliable realtor
Ask around. Check with co-workers, friends, family members, or even on social media for the neighborhood or town(s) where you're looking to buy. (The same goes for a mortgage broker.) There are always realtors who want your business, but the key is to find someone you can trust and who will go to bat for you in negotiating. Look for someone who's experienced and familiar with the area where you're hoping to move.
Make a list. Check it twice
Once you start looking at homes — whether online or in-person — they can start to blur together. Creating a list of needs and "Must-haves" will help you and your realtor avoid wasted time checking on something you wouldn't actually enjoy. How many bedrooms, bathrooms? Will you only accept a certain size yard or access to green space? A certain type of kitchen or home office space?
Location, location, location
Whether you're moving for work or personal reasons, it's helpful to determine the general area where you'd like to buy a home. And you might ask yourself … do you need to be near a certain school, workplace, house of worship, or public transportation? Once you've determined the region or city, here are a few tips for choosing the right neighborhood for your next home.
Beltmann offers relocation and storage services for any budget. Call us at (866) 252-2383, or visit our website for a free estimate today.
---