Free Tool to Compare Two Cities
October 25, 2018
If you're trying to decide between two cities, AMSA wants to make it easier for you with this free tool. No need for a pros and cons list on a piece of paper, this fancy tool will help you make a better decision and get you moving onto the next chapter of your life.
Here's how it works:
You can compare about zip code or city, state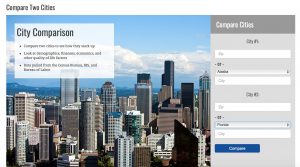 You then run the report for two cities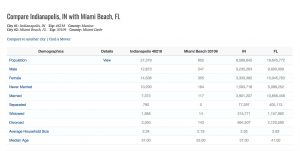 From this report, you can compare and contrast these city characteristics.
Demographics

Population
Male
Female
Never Married
Married
Separated
Widowed
Divorced
Average Household Size
Median Age

Income and Jobs

Median Household Income
Average Household Income
White Collar Jobs
Blue Collar Jobs

Ethnicity

White
African American
Hispanic
Native American/Eskimo/Aleut
Asian/Pacific Islander
Hawaiian/Pacific Islander
Other

Residential

Median House Value
Homes Owned
Homes Rented
Vacant Homes
Mean Travel Time to Work
Transportation to Work: Public
Transportation to Work: Drive/Carpool
Transportation to Work: Walk/Bike/Other
Transportation to Work: Work at Home
Once you compare these two cities, look at your lifestyle and priorities and weight each category (the higher the more important), then give each city attribute a score. Multiple the category rating by the score to get a total. Add each number up to see which city is objectively the winner.
Once you make this important decision, we want to be the next decision that you make. Let us help you do the heavy lifting when you're ready to start making this next chapter of your life a reality. Our team at Beltmann is ready to make your next move easy and stress-free.
---