Falling into View: Your Fall Clean-up Checklist
October 1, 2021
Ah, September. Pumpkin Spice is in the air, and so is … a good cleaning?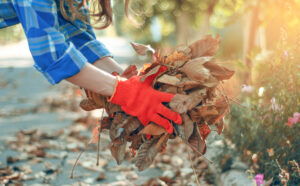 Sure, traditional spring cleaning seems to get all the attention. But as the weather turns cooler and seasons change, fall is also a perfect time to get moving and brighten up your home's interior and exterior.
Wondering how to do that? Here's our fall clean-up checklist for you to work your way through in the days and weeks ahead:
In the Yard:
Trim your landscaping.
Remove any dying branches or tree limbs.
Plant perennial bulbs for spring flowers.
Close up the pool and store water-based toys.
Remove and store hoses and winterize any in-ground sprinklers.
Move your potted plants inside.
Seed and fertilize the grass in your yard.
Clean and cover patio furniture, outdoor grill, etc.
Consider staining a deck or adding sand to any pavers if you haven't done so this year.
Remove seasonal décor and/or lighting fixtures that wouldn't withstand snowy weather.
Outside the House:
Remove any tree limbs hanging over the roof.
Check the weather stripping around all doors and windows.
Check exterior caulk and corners of siding to prevent any extra "critters" from finding a warm space inside your home.
Clean out the gutters and clear the downspouts.
Seal any cracks on your driveway or patio.
Remove debris from any basement windows. Check emergency exist ladders if you have them.
Clean the window exteriors, or hire a window cleaning company.
Consider spraying to clear ants and spiders from your home exterior.
Inside the House:
Check the batteries on all smoke and carbon monoxide detectors.
Vacuum, deep clean, or shampoo carpets.
Clean out the interiors of your appliances.
Store summer sheets, comforters, etc., and move warmer blankets into the bedroom(s) as needed.
Rotate the direction of ceiling fans to push warmer air down.
Change your air filter(s).
Donate unused summer clothing and shoes to a local charity.
Wash windows and window sills.
De-clutter and dust furniture and shelves.
Create a specific space for coats, muddy shoes, and snow gear.
If you have one, check the fireplace vents and have the chimney cleaned.
In the Garage:
Winterize and store your lawnmower and other summer garden tools.
Stowaway summer "outside" toys and gear.
If you live where it snows, get your winter tools serviced and make sure they are easily accessible. The first snow could be here before you know it!
Would you like to learn more? If you're ready to make a residential move, need some short-term storage solutions, or have relocation questions, contact us today for a free contactless quote from our team at Beltmann.
---