Exploring Chicago in One Summer Day
August 25, 2022
Second City. The Windy City. Chi-Town. Whatever nickname you give it, the city of Big Shoulders stands tall among major metro areas with plenty for visitors to do in the summertime.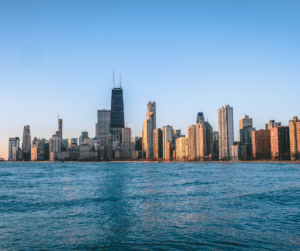 If you only have a day or two to explore, we've got a sample itinerary for you that simply begs for your utmost tourist-in-town attention.
Stop 1: Millennium Park
Since it opened in 2003, Millennium Park has become one of the most visited sites in all of the Midwest. Home of the iconic Cloud Gate stainless steel structure, a.k.a., "The Bean," and Crown Fountain, the park also offers live music concerts, movie showings, and indoor/outdoor dining options. Admission into the park is free; however, some special events at Pritzker Pavilion are ticketed.
Stop 2: Maggie Daley Park
Step next door into Millennium Park's younger sister, which opened in 2014. When it's not hosting a phenomenal ice skating ribbon, the park boasts 20 acres of fun — from rock-climbing walls and tennis courts to tree forts and picnic groves. Maggie Daley Park also includes three open lawn areas, a 6-section play area, a café space, and a miniature golf course.
Stop 3: The Art Institute
As one of the oldest and largest art museums in the world, the Art Institute of Chicago is home to a famous and vast collection of impressionist paintings, including multiple Haystacks and Water Lilies from Monet plus a grand tribute to pointillism, A Sunday Afternoon on the Island of La Grande Jatte, by Georges Seurat. You can also find works by Pablo Picasso, Georgia O'Keefe, and Edward Hopper's famous late night diner, a.k.a. Nighthawks.
Stop 4: The Museum Campus
Take your pick of world-class museums like The Field Museum, Adler Planetarium, or The Shedd Aquarium, all within the same vicinity. Or, pose for pictures with the breathtaking Chicago skyline in the background along the shores of Lake Michigan — which actually feels more like an oceanfront view than merely "just a lake."
Stop 5: Navy Pier
Later in the day, grabbing dinner on the water is probably in order. Since its reopening in 1995, more than 180 million guests have come to enjoy the Pier's 50 acres of unparalleled attractions, shopping, and dining experiences. Today, Navy Pier continues to evolve into an accessible, year-round centerpiece for Chicago's diverse arts and cultural treasures. You can also take in the Centennial Wheel, an indoor gondola-based Ferris wheel moving continuously from morning to evening. (Advance tickets recommended.) Optional: End the night here with fireworks! Held at 9 p.m. on select Wednesdays and 10 p.m. on Saturday nights.
Stop 6: The Signature Lounge at 875 North Michigan Avenue
Sure, the Willis (formerly known as Sears) Tower has the fame, but the John Hancock Center on the north side of town has game. Just a short taxi ride away from Navy Pier, and surrounded by spectacular shopping on the Magnificent Mile, head up to the 96th floor incredible Signature Lounge for drinks, desserts, and delightful 360-degree views of the lakefront and Chicago skyline at sunset. (Even the restrooms have stunning views!)
Naturally this list doesn't begin to include all of Chicago's offerings like shopping on State Street, taking in a Cubs game at Wrigley Field or a White Sox game at Guaranteed Rate Field, architectural boat trips on the Chicago River, or the multitude of culture-rich neighborhoods and ethnic eateries throughout the city. But if you only have one day, this list is a perfect start to moving around Chicago and taking in the sights.
At Beltmann, we'd love to help you with any upcoming moving and storage needs, whether that's somewhere near the Windy City, across town from where you are now, or a full interstate relocation. Contact us for a free contactless quote, and we'd be happy to help walk you through the process.
---