Crowd Pleasing Hideaways
September 19, 2019
Man Cave. She Shed. Lady Lounge? Gendered monikers aside, getaway spaces are having quite the moment in homes across the nation. But trying to create a space which appeals to as many people (read: future buyers) as possible yet still serves as a fun hideaway can feel like walking a tightrope. How can you create a retreat while keeping an eye on resale potential? Here's a shortlist of elements which make the most desirable spaces.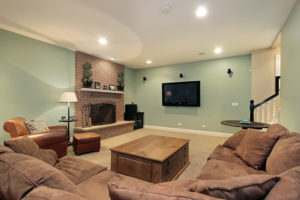 Sound Proof
It makes sense that many designers soundproof man caves for clients, what with a tv game likely to be blaring or music cranked to top volume, but you can consider soundproofing your retreat room as a selling point, too; if a buyer wants to use the space as a playroom for the kids, soundproofing might just be music to their ears. Installing carpeting and upholstering walls or adding upholstered panels is an attractive way to soundproof the area.
Multipurpose Bar
While a built-in bar may appeal to certain buyers, for some, the sight may register as just another removal/demolition project. Instead, use an island and bar stools to create your entertainment spot and let the space's potential shine through. And of course, leave the super personalized items to elements which can easily be removed (and don't, let's say, display your love for Purdue University by covering the area in Old Gold and Black).
Storage
Extra storage space, when utilized in an attractive way, will catch any home buyers eye, and your bonus area is an excellent spot to show off this type of potential. If your extra space is in the basement, built-in storage under the stairs is a smart way to have storage space blend into the room. Also, if you're wanting to incorporate an entertainment center, they don't have to be huge and awkward. What serves as a built-in media hub for you could serve as a toy and craft corral for the next person as long as you stick to a color scheme which complements the rest of the home.
When you're ready to display your crowd-pleasing bonus room, Beltmann is ready to help you move all of your items into your next home. Contact us today to get a quote for your move and find out why we are the best in the business.
---