Create a Lovely Laundry Room
August 8, 2019
Just because it's the room all your dirty clothes pass-through doesn't mean you can't love your laundry room. Considering potential homebuyers are particularly drawn to ample yet attractive storage, take note of these tips to turn your space for dirty duds into a space you might even be excited to spend time in.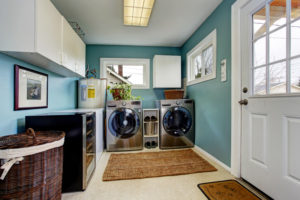 Storage
Tons of soaps, sprays, and scrubs are stored in our laundry rooms, but you shouldn't have to stare at them. Consider enclosing shelves in cabinets. Everything will still be right where you need it, and you'll enjoy the feeling of a more put-together space. If you've got the wall space, a few floating shelves can make a world of difference in the room looking intentionally designed.
Make it pop!
Why shouldn't the laundry room walls get a little love? Choose a softer paint color which will make the smaller space seem more open. If understated isn't for you, pick an accent wall and go bold with your paint color or a pretty patterned wallpaper. You can find other pops of color from a small vase of flowers (artificial if there's no sunlight) or hanging planters.
Ambiance
Is ambiance even possible in a laundry room, which is often void of any natural light? We say yes! Choose a bulb that won't create a harsh light and make you feel like you're working in a laboratory. Adding some under cabinet lighting or lamps is another way to make the space feel like more than just a utility room and will add some dimension. In addition to softer bulbs and lamps you love, include pictures or pieces of art that make you happy. Seeing a picture of your children while you're getting grass stains out of their uniforms might bring a little extra joy to the task.
Life's too short to have an entire room in your home that doesn't bring you joy! Make your laundry room lovable simply by bringing an eye for design to this frequently overlooked space. And keep that newfound feeling of joy going strong when it's time to move; use Beltmann to safely and efficiently get your belongings to your new destination.
---