Easy Holiday Gift Ideas When You're Moving
November 29, 2017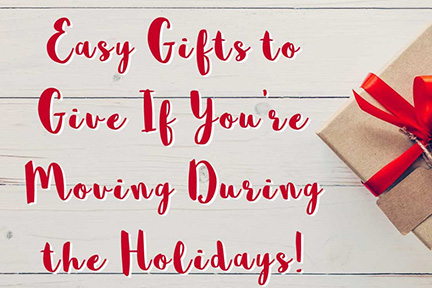 Are you moving this holiday season?  That in itself is a huge task. Don't be overwhelmed with the holiday logistics. Beltmann would like to offer you some great, easy holiday gift ideas to help make this season a little easier for you.
Just Add-A-Tag Gifts
Amazon or Target offer lots of fun gift ideas that are easy to purchase and can be turned into something creative with just the addition of a tag. The tags are free-printables and make a standard blanket gift, something adorable with cards like "The Snuggle is Real. Have a Merry Christmas." Enjoy spicing up these practical gifts which make simple look very creative.
Amazon Prime
This year might be the time to jump on the Amazon Prime bandwagon to make gift-giving easy. If you aren't familiar with Amazon Prime, it's a membership service offered by Amazon that costs $99/year and includes free two-day shipping for anything purchased on Amazon. It also comes with other perks, like a free Kindle book download each month, access to movies, TV channels and food delivery services. The best perk, however, is the free two-day shipping. You could literally Christmas shop the last week before Christmas and still have wrapped and delivered presents in the hands of your family or friends on time.
Shutterfly
Shutterfly is a great place to shop for personalized gifts. Easily grab your family's pictures from their social media sites to create memorable gifts. Shutterfly can even ship directly to your family members. If you have a meaningful family picture, create something special for everyone, like mugs, candleholders, puzzles and blankets.
---