Creating Backyard Bliss Could be the Secret to a Sale
May 8, 2019
Just as you try to create an indoor living space potential buyers can picture themselves in, you want to do the same with the backyard. In fact, according to the National Association of Realtors' Realtor Magazine, creation of outdoor living spaces was one of the biggest trends in homeownership for 2018, so imagine the interest you'll attract if you've already done the hard work of crafting a backyard oasis. Check out our list below of some of the smartest backyard additions which will help you get your home noticed fast once you're ready to list!
Start with the Basics
Before adding anything snazzy to your backyard, make sure you've tidied up. This may mean anything from weed control, power washing lackluster siding or walkways, or clearing dead branches. If any repairs are needed, move those items to the top of list. The state of the outside of the home is often a cue to buyers as to how well the inside has been maintained.
Lighting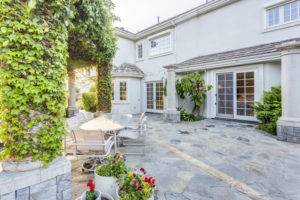 Most sellers and realtors appreciate the importance of good lighting on the inside of a home, but don't underestimate the power of lighting on the outside, as well. A softly lit path can add a magical element to your backyard space. And while adding motion lights may not do much for additional ambiance, it will certainly do more to promote a sense of security.
Create a Gathering Space
Designing an area of the backyard which encourages people to come together automatically attracts interest and, luckily, can be accomplished with a variety of budgets. Arranging a space for meals to be shared enhances an outdoor space drastically, and simple considerations like comfortable and ample seating around a patio or deck area can help create an inviting atmosphere. If you're ready to take it up a notch, according to the National Association of Realtors' 2018 report on remodeling and outdoor features, a fire feature makes the top ten list of items buyers are looking for in an outdoor space. They highlight a gas burner and patio area costs an average of $6,000 to construct, and when you're ready to sell, you'll recover about $4,000 of that investment. By creating a beautiful gathering space, whether simple or lavish, you increase the chances of potential buyers imagining themselves making memories in (and outside of) the home.
This time of year brings a much more active market and knowing what makes an outdoor space attractive can help you sell your home faster. When you do close the deal, remember to call Beltmann Moving and Storage for all of your moving needs.
---