Back-to-School Home Office Ideas
September 15, 2021
Aaaaah, the waning days of summer.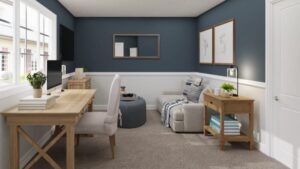 Have you ever had an itch to get organized, or merely felt a strong inclination to buy a 12-pack of new desk tools in August? Hunkering for a cute display for your notebooks and pens? You're certainly not alone!
Somewhere in the familiar rhythms of our formative years, moving our study and workspaces into high gear and organized in late summer simply feels normal.
This means it's also the perfect time to channel some of that energy into prepping for your home office, whether you personally or a young student in your home will benefit.
We love the look and feel of all things home office, found in this post. Here are a few of our favorite ideas:
It's all about the desk – Naturally, this is predicated on being able to get creative while sitting still. Desks aren't the only options for workspaces, though. You could also try to repurpose a vanity, upgrade a simple table, or install a floating desk.
Add natural beauty – Fresh greenery or fake foliage? That all depends on your personal preferences. Not only do plants provide oxygen and look gorgeous, but working near an open window and letting lots of natural light come through can improve health and reduce anxiety.
Keep it comfy – Indeed, upgrade the desk chair to help you focus, and splurge on that fantastic-looking rug you've had your eye on. Treat yourself like the company boss you know you are.
Less is more – Studies show that de-cluttering can have as much of an effect on your well-being as it does on the physical space you're cleaning. Clean, minimal lines and simple lighting goes a long way toward boosting productivity and enhancing one's mood.
At Beltmann, we'd love to help you reach your home office organizational goals. To schedule a free contactless quote for an upcoming move, just give us a call at (866) 252-2383, or visit our website today.
---