All Washed Up: 7 Simple Ideas to Spruce Up Any Laundry Room
August 29, 2021
If you're moving into a new house, now is a fabulous time to think through your home decorating ideas. And one area that's often overlooked is the laundry room. Sure, it's functional and, by nature, tends to be quite personal. But is it beautiful?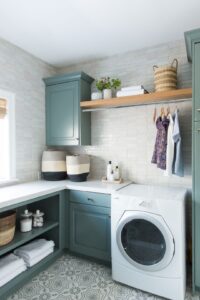 This is a question for each of us to ask about our home laundry space. We've scoured the Internet and wanted to share our 7 favorite tips and ideas to help you clean up your laundry room act.
Mix the patterns. Classic and vintage can pair with fresh and chic. Just be sure to use the same color palette throughout!
Incorporate the personal touches. Make it your own by displaying collectibles, a few favorite framed family photos, or a quote by a favorite author.
Add some greenery. Artificial plants and seasonal flowers can brighten up any space.
Keep it unpredictable. A bold rug or funky wallpaper can add a touch of whimsical appeal for you and your company.
Make the room seem bigger. For small spaces, get creative with well-placed shelving and even a curtain or two where a door doesn't quite fit. You can also brighten up the room with lighter paint colors on walls and cabinets.
Add an accent wall. Whether it's a bit of exposed "brick" or shiplap or fun paint color, think about enhancing your space by adding another creative touch on just one wall.
Keep it simple. It truly doesn't take much to upgrade the look and feel of your laundry room, so try not to overthink things. A sweet vintage "Laundry Done Here" sign, a bit of fresh foliage, or a new coat of paint can go a long way to freshen up a space!
When you're ready to create that aesthetically pleasing laundry room, Beltmann is ready to help you move or store all of your items for your next home. Contact us today to get a quote for your move, and find out why we are the best in the business.
---