Active Cities: A Smart Choice for Your Next Move
August 15, 2019
Have you ever met anyone who had a goal of being less fit? Not quite so in shape? No, me neither. Being in overall better health is consistently at the top of resolution lists, and some cities are realizing it's important enough to impact how you decide where to move next.
Active Living Research, a national program dedicated to helping communities design activity-friendly communities, classifies active cities as those which design "urban spaces for movement by all. It prioritizes active transport. Parks and play spaces are the norm. There are incentives for active schools and workplaces."  But why should "active" be a qualification for the next city you call home? (Afterall, couldn't you just dust off the home gym and grind away at your fitness goals in your own basement?). Studies are finding that cities which are more active don't just promote better health;  economic growth and environmental sustainability swell in places which prioritize an active lifestyle.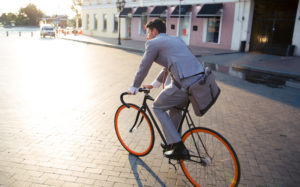 So what should you look for if you have some location flexibility? A city which clearly embraces and encourages fitness will put time and money into maintaining sidewalks, running trails, and parks. Also, be on the lookout for some of these elements which are trademarks in active cities:
Diverse Choices
I have loved and used the local YMCA for years, but to find an active city, you'll need to keep an eye out for more than just your average gym. Boutique fitness studios (think yoga, barre, spin) and specialty gyms (rock climbing, cross fit, boxing) are cropping up in cities nationwide and providing enough variety to appeal to the fitness novice and expert.
Easily Traversed
Look for bike-share programs and protected bike paths. Notice how safe it is to walk to and from in the city. Then take note of whether it's worth it- are there attractions
(restaurants, parks, shops, etc.)  conveniently located within walking distance of each other?
Free Fitness
Keep an eye out for a true hallmark of an active city- options are there for free fitness. Running paths, trails, and public playgrounds and parks should be easily spotted and attractive.
Luckily for those relocating, finding a new hometown which will support an active lifestyle is becoming easier as more cities catch on to the benefits of overall health. Once you've found your destination, make another wise choice and utilize Beltmann to get you and your belongings safely there!
---