7 Guest Room Must-Haves
September 16, 2022
As life in many parts of the world resumes back to a "normal" rhythm of travel and hospitality, for many home-dwellers, the guest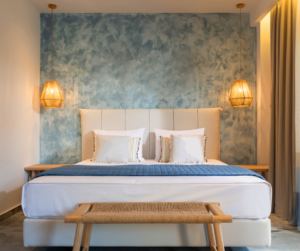 room has returned. It could be a spare bedroom or perhaps a loft or extra room that doubles as a home office. Whatever the case, having a designated place and space to help guests relax and feel welcome as they stay the night is an entertaining luxury not to be taken for granted.
How can you help make your company feel that extra special TLC touch? Here are seven of our favorite must-haves for the guest room.
Extra lighting.
Think about night lights, reading lamps, and desk light spaces when you envision how your guests will spend their time in the room. Hallway and bathroom lights might also benefit from extra floor lights to guide the path in the dark.
Fresh towels and linens.
We're not talking about perfect décor, but clean, crisp sheets and extra fluffy towels go a long way to help your company feel cherished and loved. You can often find inexpensive options this time of year as college students load up on apartment and dorm décor.
Fresh flowers.
Grab the bouquet from Trader Joe's, pick up a few stems from your local florist, or snip some fresh flowers from your own garden. Then simply add a cute ribbon that ties into the season with a mason jar, and call the inviting look in the room a win.
Space.
Nobody likes to travel and end up in a teensy tiny room where you're scrambling for space, so clear out the closet (but leave some hangers!), remove the clutter from the nightstand, and consider a luggage rack so guests don't have to spend time unpacking from a suitcase.
Technologies.
Having the right electronic charging station, USB outlet(s), portable charging cords, and a small Bluetooth speaker can certainly go a long way toward helping your guests feel at ease and connected. A cute Wi-Fi sign or two might also be nice. If the bed doesn't have an outlet nearby, consider an extension cord or surge protector adjacent to it on the floor.
Extra toiletries.
We've all been there — forgetting something essential while we're moving about happens a lot. We like to add the extra step and think in advance what a guest might need to avoid a last-minute stop at the drug store on the road. Think of a basket with a few key items such as: a new toothbrush, toothpaste, shampoo & conditioner, travel-size deodorant, a razor, cotton balls, Q-Tips, Ibuprofen, Band-Aids, and a small sewing kit.
Personal touches.
Try using a chalk board or a glass frame with a dry-erase marker for a Welcome note to your company. Depending on how well you know your guests, you could also add a personal photo or for a big wow factor, gift some new pajamas in just their size.
If you're planning on company in your new home or you're considering a local move or even across the country, Beltmann Moving & Storage is here to help you plan a stress-free move. Contact us today to start the conversation or get a free quote.
---