Corporate Relocation in Kansas City, KS, Lenexa, KS, and the Surrounding Areas
Professional Corporate Relocation Services in Kansas City, KS, Lenexa, KS, and the Surrounding Areas
Beltmann Moving and Storage understands the importance of quality corporate relocation and we are proud of the experience we provide for you, your corporate shareholders and personnel. We offer the most complete, detailed and economical employee corporate relocation solutions available in Kansas City, Lenexa, Overland Park and beyond. We have created centralized client care with dedicated account management teams for national accounts and consolidated elements of accounting, planning and dispatch to provide the best service for your business. Additionally, we have an Executive Relocation Moving Service for your top-tier executives.
Corporate Relocation Services
Our National Customer Care Center (NCCC)
We better serve your needs through our NCCC, giving our national account customers the dedicated time required. Honoring our clients' policies, while adding any supplementary information needed, we guide you through the relocation process step by step. Our NCCC acts as an extension of your own relocation department, and our move management process, ProMove™, allows us to also offer every employee the best relocation moving services in the industry.
Transportation System & Hauling Capabilities
Beltmann Transportation Systems (BTS) is one of the biggest transportation fleets in the nation, employing over 250 skilled drivers. By using our own pack-and-load people and fleet, we maintain control, cost-savings and flexibility of your corporate relocation. Systemized planning and dispatch aligns with NCCC to develop solutions to meet even the most unique needs.
Monitoring & Reporting Solution
Watchful oversight and reporting ensures quality services. By closely attending to operations and compiling weekly reports, Beltmann Moving and Storage brings the steady service customers expect. Our Quality Index system rates and ranks service providers in the areas of packing, hauling and customer service so that our staff can monitor and improve services for you.
Our Shipment Tracking
The WorldTrac® satellite tracking and communication is North American Van Lines' link between van operators, agents and corporate employees, enabling us real-time communication, regardless of potential problems with cell coverage.
WorldTrac® benefits include:
Tracking of shipments within 1,000 feet for you and your employees
Full use of our driver capacity
Communication between the driver, Beltmann, and North American Van Lines
All-day satellite tracking
Controlling Costs for You
Our Total Cost Solutions program reduces expenses by up to 10-12% while documenting your increased savings. We use efficient relocation methods, maintain high-quality standards and achieving savings for you. Beltmann's quantified reports, can easily be accessed to share with others on your team.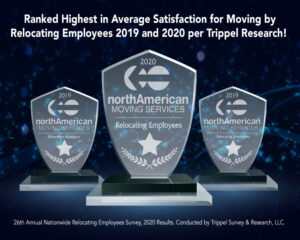 Contact us today for a free quote on reducing your corporate relocation costs.