Corporate Relocation Services in Atlanta, GA, & the Surrounding Areas
Looking For Professional Corporate Relocation Services in Atlanta, GA, and the Surrounding Areas?
Beltmann Moving and Storage is one of Atlanta's top rated moving companies. We have years of experience providing excellent corporate relocation services that are tailored to your specific needs. If you need to relocate your employees and their families, count on the movers at Beltmann Moving and Storage!
Beltmann Moving and Storage provides superior corporate relocation services, providing value to your business, shareholders and employees with our comprehensive and budget-saving solutions. We offer a white glove relocation service specifically for top-tier corporate executives, as well, delivering the highest level of service possible.  
Beltmann National Customer Care Center (NCCC)
Our National Customer Care Center (NCCC) was designed to exceed your expectations in terms of service. We manage your moves in accordance with your corporate relocation policies while providing any supplemental information that might be needed through the transition. NCCC acts as an extension of your current relocation department, but when combined with ProMove™, we can truly offer the best relocation services in Stone Mountain, GA and beyond.  
Transport System & Hauling Capabilities
Beltmann Transportation Systems (BTS) is one of the leading transportation fleets in the industry, employing more than 250 drivers. By using our own packers, loaders and fleet, we pass control, reliability, money savings and flexibility to your corporate moves. Our NCCC develops solutions to meet unique needs with our systemized planning and dispatch.  
Quality Index Monitoring & Reporting
Beltmann delivers the consistent reliable quality service our current customers have come to expect. Our online quality measurement system (Quality Index) will evaluate and rank service providers by their packing, hauling and customer care. Quality Index allows us to provide regular reports to keep your organization informed and always in the know.  
Excellence in Tracking
Our WorldTrac® satellite tracking and communication system between van operators, agents and employees enables communication in real-time, despite location or cell zone problems. With North American Van Lines' link, customers have access to shipment tracking within 1,000 feet for you and your employees, full utilization of our driver capacity, real-time satellite communication between all parties handling your shipment, and satellite tracking 24 hours a day!  
Reducing Your Relocation Costs
With Total Cost SolutionSM, Beltmann provides a proprietary corporate relocation program for managing your transportation-related expenses that other third-party companies cannot! This program was designed to lower your transportation costs up to 10-12%. The best savings are attained when employing our efficient methods while still maintaining our high-quality standards. Reports are routinely provided at regular intervals showing your corporate achievements, with easy access to sharing ability for others in your organization, as needed.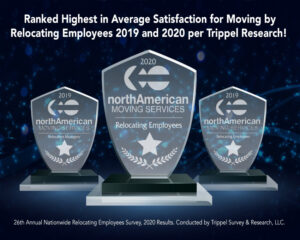 Call us for your corporate relocation quote in Greater Atlanta today!