What's Your Interior Design Style?
May 14, 2020
Whether you're moving soon and hoping to take your style in a different direction or you're just ready to find a more unifying look for your current space, combing through your options can be half the fun. Let our list of design styles help you zero in on a cohesive look for your home.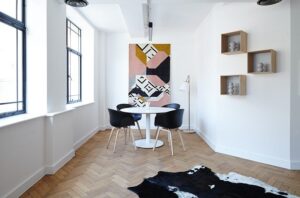 Modern
Modern design style is just as much about what it isn't as what it is. A backlash to the ornate trappings of Victorian design, modern style features clean straight lines, incorporation of metals, and bold accent colors, all with a minimalistic air. Open floor plans and a general sense of spaciousness are common components of a home designed with modern style in mind. 
Minimalist
Think functional over ornate, blank space over filled up, essential over unnecessary. This design style is meant to evoke feelings of zen-like simplicity, so if clutter makes you cringe, you may already have some of this style incorporated into your space. If you're looking to take your current decor in a minimalistic direction, consider your interior's color palette. Minimalism limits colors to just a few basics which work well together throughout the home. 
Mid-Century Modern 
If retro is calling your name, mid-century modern is a style to explore. To infuse this style into your home without making it look like the set of the Brady Bunch, pick and choose a few of the elements common to the look: sleek lines, peg legs, low slung furniture, wood-details, geometric art and light fixtures, and a general sense of simplification. The color scheme you're likely familiar with includes reds, oranges, browns, and greens of the late 1960s, but you can inject new life into this look by featuring neutral pastels instead. 
Bohemian
Perhaps the thought of choosing and sticking to one style sounds stifling. If so, explore a bohemian style. Relaxed and eclectic, the boho look features rich tones and a maximalist feel. Combine various textures, patterns, and color schemes to achieve a globally-inspired, unique vibe. And to tiptoe the line between "more is more" and cluttered, choose pieces which are meaningful—whether that's art, furniture, or throw pillows. 
Rustic
If a home heavy on the comfort factor is your ideal, a rustic design style may be the perfect inspiration. Bring the great outdoors into your home and achieve a rustic look by featuring natural materials, leaving lots of exposed wood, and working with a neutral color palette. Stray from the clean straight lines and instead cozy up with soft, welcoming furniture and textures.
Traditional
Feel pulled toward an ornate, elegantly styled home? A home designed in the traditional style is right for you. Curvy lines, symmetry, and a sense of luxury are the fuel behind this home decor, and no traditionally styled space would be complete without carefully considered window treatments, like long, heavy curtains and valances, or a subdued color palette. You're also likely to see carved, or clawed, wooden features on furniture in a traditionally styled space.
Decide on Design
The best part about designing your home is that it's yours, and there's no rule that says you can't combine styles to create a feeling as unique as you.
If you are thinking about moving to a new home, call our movers at Beltmann Moving and Storage, among top moving companies nationwide.
---