Make Moving Fun: How to Enjoy the Monumental Task
August 28, 2020
For many homeowners, there is nothing more dreaded or daunting than the thought of moving: packing for days or even weeks, fighting to find items already organized and packed, and then arriving at a new location, only to have to undo the whole process. Before you let the idea of moving become an overwhelming stressor, suspend your disbelief and consider that moving, when done right, could be fun. Check out our tips to make it a reality.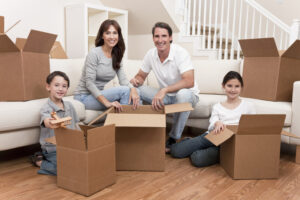 Make it a Game
Oftentimes, making something a challenge or competition gives us just enough oomph to get it done. For the more tedious parts of the move, try racing against the clock. See how many boxes you can (safely) pack before your spouse.
Recruit Friends
Many hands make light work. Invite friends to be a part of your packing or unpacking. Of course, you'll reward your team members with take out, some drinks, and the ever popular IOU, which they will remember to cash in on when it's their time to move.
Make a Playlist
Doing anything monotonous in silence is a downer, so crank up the tunes! Make a collection of your favorite artists and songs you enjoyed during your time in your current house. Your playlist will provide a little extra nostalgia and the power of musical motivation.
Get Imaginative
Let the kiddos decorate the outside of the boxes. When it's unpacking time, allow them to help remove the contents of a box with the promise that they'll be able to turn empty containers into a rocket ship, secret hideout, or whatever their imagination dreams up.
Reward Yourself
Don't wait to plan an event, like a celebratory meal, for when you think you'll have everything unpacked. Put a celebration on the calendar and send out the invites before moving day; that extra bit of motivation will give you something to look forward to as you clean, unpack, and organize everything in your new space.
Like Mary Poppins said, "in every job that must be done, there is an element of fun," so commit to finding fun during your move. You'll likely find the task goes faster and smoother than before!
---