Lights On, Lights Off: A Moving & Utilities Checklist
April 30, 2021
If you're moving soon — whether nearby, across the country, or across the pond — there are a myriad of details that need your attention before Moving Day. How can you keep track of it all?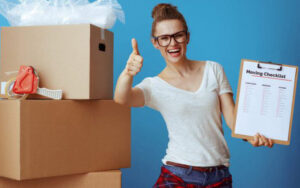 Here's a simple checklist for one specific area: your utilities. It might not be a glamorous "to-do" item, but it's certainly important, especially if you like hot water or electricity.
What's important to remember is that just like any power switch, you'll need to turn utilities both on (at the new place) and off (at the old place.)
Think through each of your monthly expenses for your current place. Now is also the time to do a little comparative shopping and research competitor rates for the new space (if they're available in your area, or if you wish to bundle your cable and Internet, for example).
You might want to make a list using an online, a note on your phone, or even a simple notebook with each company's contact information, your account number, and the dates for connecting or disconnecting service.
Here's who you'll want to contact, at least two weeks prior to your move
Cable/ Satellite TV
Internet
Water and sewer
Gas or heat
Electricity
Security System
Trash / city services
Phone (if you have a home phone line or VoIP)
In terms of companies that require an in-home appointment to turn on or turn off services, such as cable TV or an in-home security system, try to contact them at least one month in advance. And keep in mind, peak service times might require more wait time. The water and sewer service will likely be handled by your city.
For most services, it's recommended scheduling to turn them off a day after you move out, and turn them on a day before you move in. That way, you'll help avoid any unnecessary hassles on Moving Day.
If you're considering an upcoming move, Beltmann offers relocation and storage services for any budget. Call us or visit our website for your free estimate today.
---